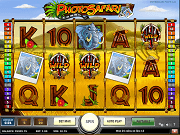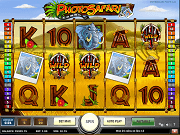 Upon first glance, it is obvious that Photo Safari Online Slots is not your ordinary slots game. The them of the wild Savannah has exotic animals and a big African sky. Here on the giant continent of Africa the player is taking pictures of the animals that populate the area. The game features five reels and 20 paylines. The design is beautiful, with a wood frame surrounding the grass plains and a mountain in the background. In addition, 10 Through Ace are the basic symbols, which are made from carved wooden animals.
The game features a lion, an elephant, a giraffe, and a zebra, which are friendly and enjoyable to watch.
It features a wild symbol (drums), a scatter symbol (film roll), and a camera as the bonus symbol. That means that there are 3 opportunities to win even more points. The wild symbol can replace the other reel symbols (with the exception of the film roll and the camera). If you get two or more scatter symbols then you win.
In addition, the two bonus rounds make things extra fun due to their challenging nature. The Film Strip Spins is triggered by three or more symbols appearing anywhere in the reel, and a wild symbol will activate the Photo Shoot round. The photo shoot round gives you the option of racking up a lot of extra points and going for even more bonus rounds and changing up the feel of the game entirely.
Clearly, not all slot games are created equal. Photo Safari is a wonderful theme that involves cheery music (like drums and animal sounds) with inspiring visuals to make playing it a blast. If you love creative games with lots of bonus opportunities, this game could be perfect for you.