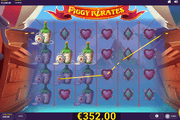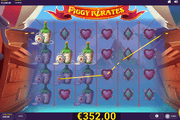 Piggy Pirates Online Slot: Lingering Bonus Symbols Boost Chances of Activating Free Round
Piggy Pirates online slot is an engaging 40-payline content built in a 4×6 grid. Game developer Red Tiger presents a cartoon collage depicting Pig-Wolf conflict in the high seas. The wacky pig characters are buccaneers voyaging the deep blue on a ship of their own. Whereas, a Big Bad Pirate Wolf is after the Piggy Pirates, to get hold not only of the pig's booty; but also of their other significance as hearty, meaty meals.
The Piggy Pirates are of interests to players too. Mainly because they are Bonus Symbols that set off unlimited free games. Each Pirate Pig occurs as a sluggish character who stays on a reel, then transfers to the next column on the next spin; eventually disappearing from the slot screen once it reaches the border. The lingering attitude works well for players, since other Piggy Pirates may arrive and stay awhile as well: greatly increasing chances of completing a 3-symbol winning Scatter Combo.
Piggy Pirates and the Big Bad Wolf meet during bonus rounds. The occurrence though is bad omen for players, because at that point, the unlimited free-spins round will end. Still, the bonus round comes with a Gold Coin Collection feature. Once a free round ends, all Gold Coins collected, will return to reels in random positions. Such an event is truly advantageous because Gold Coin tokens are Wild Symbols that could complete multiple combinations on the last free-spin.


Reel elements are all configured as Stacked Symbols, landing partially or completely in view as stacked icons in one or more reels. The Treasure Chest has the highest range of payouts to offer. A pair or a set of 3, 4 or 5 Treasure Chests aligning consecutively and appropriately in a payline, garners 8, 32, 80, 200 or 1000 win-credits, respectively. The amount staked ss Line Bet multiples all credits collected as winnings.
Piggy Pirates Online Slot: Wild Symbols
Gold Coin tokens can take the place of any regular icon for purposes of organising a winning payline arrangement. Base game Gold Coins, however, are rare occurrences, if compared to their free round engagement.
During bonus bouts, Gold Coin Wilds are collectable items. Piggy Pirates collect and save every emerging Gold Coin, and will later use them to carry out a Wild Bonus Feature . If by chance 6 Gold Coin Wilds line up in reels as payline contents, lucky players experiencing such an event, receive as many as 2000 win-credits.
Piggy Pirates No-Limit Free Games
A round of unlimited free games transpires once 3 Piggy Pirates catch up as simultaneous displays of the base game grid. Some Piggy Pirates tend to fall asleep and stay longer in one position. That works well for players, because other Piggy Bonus Symbols may arrive. They will also linger and likewise stay visible; increasing possibilities of completing a winning Piggy Bonus combination.
Once the free games feature kicks off, players will be launching bet-free spins without limit. Not unless, the Big Bad Pirate Wolf comes around to spoil the fun by ending the free games. The Pirate Wolf though, emerges only in Reel 5.
Nonetheless, the bonus round may yet conclude with a bang. The Piggy Pirates will place all Gold Coin Wilds hoarded in random reel positions. That way, the outcome of the final free-spin will have great potential to deliver multiple payline wins.