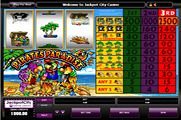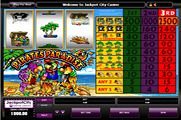 Pirates Paradise is a 3-reeled classic slot machine that provides online players with a traditional experience as the game is offered to them in 3 reels and one single payline. Despite that, it offers players a unique theme as it has a pirate theme. This is why the game is called Pirates Paradise and it is also why the symbols and the design of the game are inspired by that theme. On that game, Microgaming, the software developer behind the game, invites players to join pirates in their crusades and pay a visit to their hidden and secret island to claim a share of the treasures that can be found there. Players will be able to claim their own share of these prizes, fortunes and treasures through the line pays of the game that they can claim whenever they succeed in matching a symbol on the bet line of the game,

The symbols that appear on the reels of the slot machine include a tree, a treasure chest, pirate flag and a sea shell. The trees represent the usual bar symbols that classic slots have as they come in 3 forms. One tree, two trees and three trees. Players can find the different combos that can make them eligible for an award at the right side of the screen at the paytable. This paytable is divided into 3 parts since players can place from one to 3 coins. Each part is dedicated for the reward that players can claim according to the number of coins that they placed. Players can place their bets and determine how many coins they wish to place at the bottom of the slot machine right beneath the reels. Since players can place 1 coin, 2 coins or 3 coins, there are three different columns for the payouts and of course, the higher the number of coins, the higher the payouts that players can claim. This is why the jackpot prize of the game, which is equal 2500 coins is given to players who have placed the 3 coin bet and managed to get 3 of the highest paying symbols on the bet line. Getting these 3 symbols while placing lesser bets will also result in a great prize, but not as big as the 2500 coined jackpot.
So if you are on the lookout for a fun and a hihgly rewarding 3 reeled classic game with a pirate theme, then Pirates Paradise by Microgaming is the slot you are looking for.