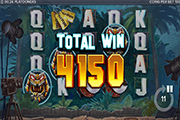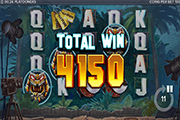 Platooners Online Slot: Elk Studio's Minions on a Jungle Mission to Collect Fortunes
Platooners online slot showcases Elk Studios' adorable minions as fortune hunters. Rocket-Launching, Grenade-Throwing and Gun-Wielding characters, presumably stray members of a platoon, found their way into this 178 ways-to-win content. The three (3) Platooners make their presence valuable to players by helping the latter land payline wins. They will even take it upon themselves to spearhead a mission to attack a legendary "Snake of Fortune."
At any time during a spin, a Platooner appears to add some elements that could bring big wins. Their individual interaction with the reels are called "Action Spins" that trigger a free roll on each occasion. The Rocket-launching Platooner blasts one or more reels in order to produce a full column of Stacked Identical Symbols. Not to be outdone, the Grenade-throwing Red Platooner blasts one or more reels and place Wilds in random positions. The Gun-wielding Yellow Platooner takes a more decisive action by taking a random symbol, whilst placing it in a position that ensures a 5-of-a-kind win.
The Bonus Game is not a typical free-spins round; but more of an action-packed segment in which Platooners take turns in annihilating a fortune-bearing Snake.


Platooners Online Slot: Action Spins
Action Spins occur on random occasions during and after a regular spin. A Platooner in action will implement changes on reels specific to its character. The changes will then combine with elements produced by the unaffected reels.
The Green Rocket Platooner arbitrarily selects a symbol to display as stacked identical symbols in Reels 1 and 3 before the other reels come to a stop.
The Red Grenade Platooner places up to three (3) Wild Symbols anywhere in Reels 3, 4 and/or 5, before an ongoing spin completes a turn.
The Yellow Gun Platooner – When Reel 1 returns with a set of icons, the Yellow Platooner selects a symbol to use in modifying the outcomes of the remaining reels. The chosen symbol will then be placed in positions that will surely produce a 5-of-a-kind win.
An Action Spin though canot transpire by way of an ongoing Action Spin.
Platooners Online Slot: Platooners vs. Snake of Fortune
This bonus feature activates when three (3) or more Snake Head icons occur simultaneously as outcomes of a single spin. The number of Platooners in action depends on the number of Snake Head tokens triggering the attack. Three, four or five Snake Heads scattered across the jungle-themed grid, correspondingly sets 1, 2 or 3 Platooners in action.
The goal is to destroy a mythical coin-bearing snake in order to collect bet-free bonuses and advance to two, more difficult stages .
At each level, the Platooners receive 15 rounds of ammunition to use in attacking the Serpent. Starting from the tail up, damages inflicted will work toward the release of coins that may reveal either instant cash bonuses or additional ammunition.
If the Platooners succeed in annihilating the Level Snake, the game advances to the second stage, and/or third stage. Any remaining ammunition will be carried over to the next stage; supplementing the 15 rounds awarded by the second or third level. The active action figure levels up as well, gaining additional damage points to use in destroying the Snake of Fortune.
It takes three (3) Damage Points to break the snake's hold on a regular-sized Coin. A Platooner's assault has damage points corresponding to the Game Level.
A special Big Mystery Coin, if hit by six (6) Damage Points, reveal larger amounts of cash bonuses or greater number of extra ammunition. Moreover, a Big Mystery Coin may also reveal a Bomb, which can destroy all Small Coins linked to the Big Coin.
A Bomb is a boon, because it allows active Platooners to save on ammunition; whilst increasing possibility of finishing the current game level before they run out of firepower.