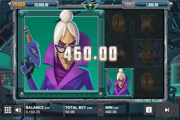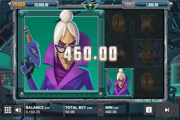 Power Force Villains : Anti-Heroes Bring Big Blocks for Big Wins!
Power Force Villains is a Push Gaming online slot in which anti-heroes bring big wins by appearing in large blocks of images. In some instances, Power Villains in the likes of Strong, Fire, Spy, and Clown appear in full force as stacks of identical symbols in consecutive reels, furnishing the equivalent of the 3-row x 3-reel size of a Big Block Symbol.
Actually, all symbols, including the Wild, have potential to emerge as stacks of images in one or more reels. The Big Symbol feature though is exclusive to the Villain icons and the Bonus Symbol. The Big Black Bonus is more potent, because even if only a part is visible, a round of free games will be awarded. On top of those amazing features, the base and bonus game reels randomly attach a Jackpot symbol that could bring tremendous results!


Power Force Villains Online Slot: Wild Symbol
The Wild icon emerges in any reel, in single cells or as full reel Wilds, and at times in both forms. When combining with identical and Big Block Symbols positioned in the same payline, the Wild icon can easily complete or lengthen a winning arrangement.
Since multiple Wilds may appear simultaneously as outcomes of a single spin, players can strike wins by way of Wild combinations. Three, four, or five Wilds in a row starting from the leftmost position of a pay pattern, garner cash prizes equivalent to 10x, 70x, or 250x the value of the bet staked per line.
Power Force Villains Online Slot: Big Block Symbols
A Big Block image embodies a group of nine (9) identical Force Villains fully occupying 3 consecutive reels. The huge image though emerges only in Reels 2, 3, and 4. When literally appearing as nine (9) identical elements in any three (3) consecutive columns, the synced reels tend to lock together by transforming into a Big Block image.
The most formidable Big Block Symbol is the Bonus Game icon, because even a part of that element can set off the free games.
Power Force Villains Online Slot: Bonus Game Symbol
The Big Block Bonus Symbol also takes position only in Reels 2, 3 and 4. Once it emerges, each of the nine (9) cells comprising the huge totem reveals a number anywhere between 1 and 3. Take note that a Bonus number is set either against a blue or green background. This is important because the Blue Cells award Free-Spins, while the Green Cells trigger Super Free-Spins. The sum of all the Blue Cell numerals represents the number of free-spins bonus, while the aggregate of the Green Cell numbers represents the Super Free-Spins Rewards.
Power Force Villains : Free Games
It is possible to trigger both the regular Free-Spins and the Super Free-Spins with a single Big Block Bonus Symbol. Players therefore have a chance to experience the bonus-win boosting feature of both variants.
Power Force Villains Take Over
• In a round of regular Free-Spins, the A, K, Q, and J Symbols are gradually removed as bonus reels elements. The Symbol-Removal feature continues until only the Power Force Villains appear as outcomes of bonus spins.
• In the Super Free-Spins Round, the bonus reels contain only images of the Power Force Villains; in single cells or as Big Block Symbols. However, the Wild icon is excluded as a bonus reel element.
Power Force Villains : Jackpot Symbol
The Jackpot Symbol is available in both base and bonus games. It is a tiny Skull image that affixes to any symbol positioned in Reels 1, 3, and/or 5. A base game Skull icon comes in Silver, while the bonus game Skull is in Gold. If after a spin all 3 designated reels simultaneously display icons with Silver or Gold Skulls, the corresponding Power Force Villains Jackpot will be awarded.