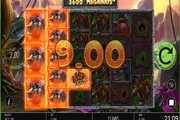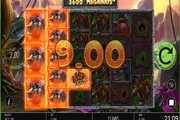 Primal Megaways Online Slot: Guaranteed Wins Free-Spins with Wilds that Generate All-Win Multipliers
Primal Megaways online slot by Blueprint Gaming uses a dynamic grid that furnishes up to 46,656 win-ways by using elements with different configurations. Images depicting prehistoric wild animals land as top paying icons, particularly the now extinct Wooly Mammoth. Icons land via 1×1 or 1×2 tiles in singles, or in stacks that partially or fully cover one or more reels. As sizes of images vary on every spin outcome, the number of available ways-to-win, likewise changes. In this game, alike elements need only to take positions in adjacent reels starting from the leftmost reel.
Wild, Scatter and Mystery Symbols also emerge, each with a special function that can influence chances of collecting rewards. Wilds become more potent in free rounds as they also generate All-Win Multipliers. The number of Free-Spins and potential Multiplier Values depend on the number of Scatter icons setting-off a bonus bout. Mystery Symbols on the other hand, produce multiple tiles of a single type of icon, on any spin.
Although it may take some time before a bonus round activates, unlocking a round may prove well worth the wait. Aside from the All-Win Multipliers generated by bonus game Wilds, free bouts come with a guarantee of yielding at least 10x the Total Bet currently staked. Moreover, a round may extend or retrigger repeatedly, depending on the number of Bonus Symbols occurring as Scatter Combo. Here, at least 2 Bonus Symbols turning up as outcomes of a free roll, will add 5 Extra Free-Spins to an ongoing round.


Primal Megaways Online Slot: Wild Symbol
Images of a Paw Print land on reels as Wild Symbols. However, they take positions only in Reels 2, 3, 4, 5 and/or 6. When connecting with identical regular-paying icons in adjacent reels, starting from the far left, Paw Print Wilds can lengthen or complete a winning arrangement.
In free rounds, Paw Print Wilds emerging in any of the specified reels level up as Wild Multipliers.
Wild Multipliers are Bonus Round Features. Multipliers activated by each Wild depends on the set of free games unlocked by a Bonus Scatter Combo.
If more than one Wild emerges as spin outcome, the factors multiply as well. The product will then increase all payouts generated by the spin that produced the Wild Multipliers. That is regardless of whether or not, the Paw Print Wilds occuŕred as components of winning arrangements.
Primal Megaways Online Slot: Primal Bonus Round
Look forward to landing at least 3 of the Mammoth Skull Bonus Symbol. Actually, landing on 4, 5 or 6 is better, as the number of free-spins awarded increases if more are simultaneously in position. A scattering of 3, 4, 5 or 6 Mammoth Skull icons, correspondingly delivers 10, 15, 20 or 30 Free-Spins.
Wild Multipliers
In each of set of free games, Wilds reveal Multipliers that will apply in increasing all wins generated by the related bonus spin.
10 Free-Spins = 2x and/or 3x All-Win Multipliers
15 Free-Spins = 2x, 3x and/or 4x All-Win Multipliers
20 Free-Spins = 2x, 3x, 4x and/or 5x All-Win Multipliers
30 Free-Spins = 2x, 3x, 4s, 5x and/or 6x All-Win Multipliers
If a bonus spin yields a win-outcome along with multiple Multipliers, the factors will first Multiply to establish a final Multiplier Value.
Now the next best thing that may happen during free rounds is the emergence of at least 2 Mammoth Skull Bonus Symbols. Such an event automatically generates 5 Extra Free-Spins that will give players additional chances of collecting bonus wins.
Primal Megaways Free-Spins Guarantee
In case a bonus game failed to deliver bonus winnings equal to at least 10x the value of the current Total Bet, a new round retriggers. The same number of spins previously awarded rolls out to produce additional bonus winnings.