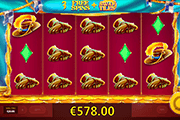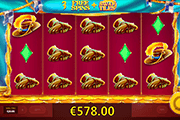 Puss'n Boots Online Slot: Base and Bonus Grid Enhancements Create Big Wins!
Puss'n Boots is another feature-rich online slot from Red Tiger with 30 fixed paylines to offer. Here, the titular Puss'n Boots character stays true to form, as it often does tricks to help slot-player masters, win big. During base game spins, the Booted Cat may improve a spin outcome by swapping reels or images; or by altogether modifying the contents of reels.
In the free-spins level, any of Puss' random base game improvisations will be awarded as Bonus Feature. Bonus Wins therefore are guaranteed. It is only a question of how much a Puss'n Boots-supported player will rake in as bonus winnings! By the way, Puss in Boots' first order as principal character of this slot game, is to act as Wild Symbol. The icon of the wily cat therefore can complete winning combinations by way of Wild representations.


Moreover, the Puss'n Boots Wild is the highest paying reel element. Three, four, or five of the Booted Cat's image lined up from the first payline position onward, correspondingly award a cash prize equal to 100, 300, or 1000 times the Payline Bet.
Puss'n Boots Online Slot: Random Base Game Reel Modifiers
Once in a while during base plays, Puss makes a dramatic entrance to surprise players with a reel-modifying trick. The supportive Cat slashes the screen in order to arbitrarily change a spin outcome thru any of the following methods:
Swap Tiles – Puss'n Boots makes a few adjustments by putting identical tiles next to each other, whilst making sure the aligned images conform to payline rules.
Swap Reels – If necessary, Puss rearranges two columns of symbols in order to put identical icons in consecutive payline positions starting from the leftmost reel.
5-of-a-Kind Win The cat lends support by simply adding icons that will create a guaranteed five-of-a-kind win.
Mega Reels To ensure that a forthcoming guaranteed win will result to a Big Payout, the wily cat modifies the entire reel by removing all low win Diamond, Heart, Spade and Clover Symbols.
Puss'n Boots Online Slot: Free Games
Players will have a very rewarding experience once they get to play a round of free games. Any one of those four (4) random base-reel modifiers will come into play as a bonus-spin optimizer.
First, they have to land on three or more Free-Spins totems by way of a single spin. A player will then select one of three (3) Fleur-de-lis Symbols, to determine the number of bonus-spins, and the corresponding Bonus Reel Modifier.
The number of bonus spin rewards vary, anywhere from 10 to 15, whilst featuring a specific Bonus Reel Modifier. The Free-Spins icon will not appear during free games. In its stead, a + 1 Free-Spin comes into view to act as bonus-game extender.