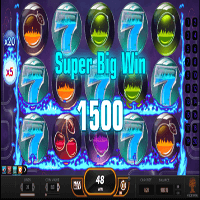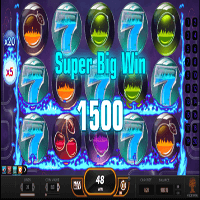 Pyrons Online Slot – Features Progressive Win-Multipliers of Up to x20
Pyrons online slot by Yggdrasil furnishes a simple spin-to-win real money gambling recreation. Yggdrasil configured the reels with the rolling reels mechanism, in which winning symbols disappear to give way to new icons that fall and fill-up empty spaces. Yet the 5-reel slot is exceptionally rewarding because a payline win easily triggers the Progressive Win Multiplier attribute. Pyrons multipliers could progress up to x20, giving players great chances of winning as many as 50,000 coins per win.

There are no Wild or Scatter Symbols in play. There are only regular paying icons enclosed in globules that cascade like drops of water. Classic reel icons that include a Star, the number seven (7), a pair of Cherries, an Apple, a Plum, a Lemon and an Orange comprise the set of visually appealing images adorning the slot screen.
Every icon contains liquid, which one could presume as depicting some type of volatile chemical formulation that tends to explode whenever a symbol completes a payline win. The Pyrons game title, after all, refers to a unit of heat-flow measurement of solar radiation, expressed in terms of calorie per square meter and per minute.
Pyrons Online Slot Progressive Multipliers
On the left side of the online slot screen are Win Multipliers of x2, x3, x5 and x20. A spin that returns with at least one (1) payline win as outcome will activate those pay-boosting factors. The globules of the reel icons that completed the win/s will explode, causing the images to disappear and creating gaps across the screen.
As the reels turn, icons cascade and fill up the void erstwhile created by the exploding globules. If another or more payline wins are achieved after the cascading action, the first x2 factor will take effect and double the number of coin rewards corresponding to each winning symbol.
After which, the Pyrons multiplier factors could progress to x3, to x5 up to x20, for as long as the succeeding cascading actions produce payline wins consecutively. If otherwise, the Progressive Win-Multipliers are deactivated, to restart at x2 if another payline win is achieved.
Pyrons Online Slot Betting Options
Pyrons slot players must place bets on all twenty paylines in order to activate the reel spinning actions. Coin values range from 0.01 up to 2.00. The coin value selected determines the amount staked per payline. The value will then be multiplied by 20 paylines to determine the bet amount per spin. The minimum stake per spin therefore is 0.20 (0.01 x 20 paylines), while the highest allowable bet per spin is 40.00 (2.00 x 20 paylines).