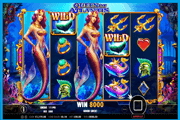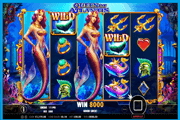 Queen of Atlantis : Online Slot with 1024 Ways to Win Bonuses from Free-Spins and Super Free-Spins!
Queen of Atlantis online slot by Pragmatic Play shares 1,024 ways to win on a 5-reel configuration. Designed with an undersea world theme, it showcases a fictional Queen of Atlantis who dominates the reels with stacked symbols. When striking a win, the stacked totems reveal a full-reel image of a beauteous mermaid. The image emphasizes the Atlantis Queen as top paying icon that awards top pays of 5, 25, 50, or 100 coins on 2, 3, 4, or 5 consecutive symbols positioned from the leftmost reel onward.
In the free games, Wild appearances could be doubly or triply rewarding because the icon can trigger a 2x or 3x Multiplier. An activated Win-Multiplier applies not only to Wild-completed wins but also on all wins hit by a bonus spin. The bonus game Multiplier feature makes the Pearl Scatter symbol the most significant element, as it activates not just Free-Spins but Super Free-Spins as well.


Queen of Atlantis Online Slot: Wild Symbol
A depiction of a Mermaid's Tail, presumably belonging to the Queen of Atlantis comes around as Wild Symbol. It carries on with its function of standing in as alternative component, if aligned with identical symbols in the win-way. Wilds, however, appear only in Reels 2, 3, and 4, and therefore not capable of forming its own winning arrangement.
In the Free-Spins Bonus Round, the Wild Symbol gives players good reason to celebrate every time it emerges in any of the three (3) designated reels. Its appearance after a Bonus Spin not only boosts chance of striking wins via Wild substitutions. A Wild Symbol in place also activates a randomly generated 2x or 3x Multiplier that applies to all wins achieved through the related spin.
Queen of Atlantis Online Slot: Bonus Game Scatter Symbol
An image of a Pearl set in a golden oyster shell represents the Bonus Game Scatter Symbol. Actually, it comes in two forms: a Regular Pearl Scatter and a Super Pearl Scatter. A Regular Pearl Scatter may take positions in any reel. The Super Pear Scatter is a base game exclusive that emerges only in Reel 5.
A straightforward 3, 4, or 5 Pearl Scatter combination struck by way of a paid spin, correspondingly awards 8, 15 or 20 Free-Spins. If the Scatter combination comprises two (2) Regular Pearl Scatters anywhere in Reels 1 to 4, and one (1) Super Pearl Scatter in Reel 5, the Super Free-Spins Round will be activated.
Yet this Queen of Atlantis online slot offers flexibility in awarding free-spins. A single Pearl Scatter in Reel 1, 2, 3, or 4, emerging in conjunction with another Pearl or with a Super Pearl in Reel 5, likewise activate free games.
• One (1) Pearl Scatter in Reel 1, 2, 3 or 4 and one (1) in Reel 5 activate the Second Chance Bonus Game. The Reel 5 Scatter may be a Regular or a Super Pearl Scatter.
• If a special pair of Regular Pearl Scatters occurs during a Regular or Super Free-Spins Round, five (5) Extra Regular Free-Spins/Super Free-Spins will be added accordingly.
Queen of Atlantis Online Slot: Second Chance Bonus Game Feature
This particular feature occurs only in the base game; giving players a chance to win 6 or 10 Regular Free-Spins by selecting one of three (3) items containing a Mystery Bonus Spin Reward. However, the reward is not guaranteed because any one of those three (3) items has nothing to offer.
When the Second Chance Bonus Game is activated by one (1) Regular Scatter anywhere in Reels 1 to 4 and a Super Pearl Scatter in Reel 5, seven (7) or ten (10) Super Free-Spins may be won.
Queen of Atlantis Online Slot: Free Games
A round of Regular Free-Spins features the 2x or 3x Win Multiplier activated by a Wild Symbol outcome. The Super Free-Spins, on the other hand, adds additional Queen of Atlantis Stacked Symbols to the Bonus Reels, whilst also featuring the 2x or 3x Wild-activated, Bonus-Win Multiplier.