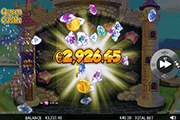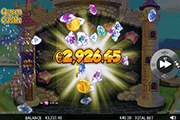 Queen of the Castle : Exciting Symbol Transformations Boost Base and Bonus Game Spins!
Queen of the Castle online slot by NextGen Gaming, furnishes 576 ways by which adjacent identical symbols may land as winning combinations. The number could increase to as many as 3,087 in the free round via the 4-level Tower Meter. In this game, players do not have to rely on chances alone. There are several win-boosting features that will help them achieve base and bonus game wins.
First off, the Wild element usually appears in multiple in light of its configuration as Stacked Symbols. Icon transformations occur via Red and Purple Mystery Chest Symbols. Those elements convert and upgrade specific types of images into one-of-a-kind elements. At some point, the Little Queen of the Castle comes out to lock the three center reels in order to synchronize their contents. All that and more will continue to happen during the Free-spins Bonus Round.


Queen of the Castle Online Slot: Random Locked-Reels Feature
Pay attention to the reels when the Little Queen of the Castle comes out. She will bind Reels 2, 3 and 4 with vines so that they will lock, and roll together during an ongoing spin. Once the spinning action stops, the center reels will display the same set of images.
Queen of the Castle Online Slot: Symbol Transformation Features
Two types of reel elements may carry out the symbol transformations: The Red Mystery Chests and the Purple Mystery Chests. Both icons are configured as Stacked Symbols that land on specific reels. Moreover, they come with a Nudge attribute that enables partial displays of Red or Purple Mystery Chest Symbols, to come into full view.
Red Mystery Chests – A spin that fills up all 3 positions of Reel 1 with Red Chests triggers this feature. Red Chest icons take over all positions occupied by A, K, Q, and J icons in Reels 2, 3, 4, and/or 5.
Once an ongoing spin completes a cycle, all Red Chest Symbols occurring as final results of the spin, will reveal a single type of higher-paying image. The one-of-a-kind revelations may be that of the Banner, Dog, Money Bag, Throne or any of the Gemstones (Yellow, Pink, Blue or Green) icons.
Purple Mystery Chests are more powerful as they can replace all Gem Symbols and even Red Mystery Chest icons. Once a full stack of Purple Mystery Chests takes position in Reel 5, all Gemstones, regardless of color will turn into Purple Mystery Chests. After which, every Purple Mystery Chests on display will reveal only one type of icon; either the higher paying Banner, Dog, Money Bag or Throne totem.
Even more awesome is that it is possible for a single spin to produce Stacked Red and Purple Mystery Chest Symbols in Reels 1 and Reel 5, respectively. In such instances, the Purple Mystery Chest feature prevails. Although the Red Mystery Chests will still sequester all positions occupied by the Royal Symbols and Gem totems, Purple Mystery Chests will later take over as prevailing Mystery Symbols.
Queen of the Castle Free Games
A round of free games launch if Reels 2, 3, and 4 altogether contains a Crest Bonus Symbol. Aside from receiving a set of 14 free-spins, participating players will also collect an instant bonus prize of 120x the Total Bet. During the free bout, the Locked Reels, as well as the Red and Purple Mystery Chests will continue to enhance the bonus grid.
Grid Expansions – This segment has a Crown Collection feature that can trigger the expansion of Reels 2, 3, and 4. Every Crown Symbol landing as outcome, fills up the Tower Meter on the right side of the panel. The Crown Collection activity occurs in four (4) Levels, to which every level completed adds an additional row to the center reels. As those columns expand, the number of available win ways will increase as well. The grid expansion can bring up to a maximum of 3,087 ways to win.
To help Queen of the Castle players complete all four (4) reel-expansion stages, every Tower Meter Level completed awards 2 additional Free-Spins.