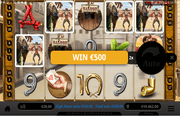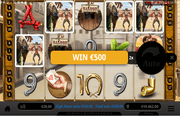 Quick Slinger Bam Bam Online Slot : Collect Big Bonus Wins from Triple-Paying Free Rounds and Shootout Bonus Game
Quick Slinger Bam Bam is a wacky, old-west themed 20-payline online slot, featuring a wily gunman named Billy Fast. Billy is a shrewd gambler, but also a trickster who often gets caught cheating; literally having an ace in his sleeve. Occasionally, an opponent challenges Billy to a gunfight via a High Noon Shootout game. As Billy's sidekick, players will be tasked to choose a gun for Billy. Regardless of who wins the gunfight, the shootout is certain to bring a bonus prize.
In this game, Billy Fast's images act as Wild and Bonus Game trigger-symbols. Three (3) Billy icons simultaneously in view, set off a Free-Spins Round that triples all winnings. Billy Wilds remain active during free games, not only to boost players' chances of hitting payline wins. A bonus spin that turns up with another trio of Billy icons, gives players additional free opportunities for reaping more bet-free wins.


Quick Slinger Bam Bam Billy carries a pair of ivory-handled Colts in his holster. Look forward to landing matched combinations of this image, as it comes with the highest range of payouts. A pair, or a set of 3, 4 or 5 Colt icons, correspondingly garners 5, 100, 1000 or 4000 win credits. Images of the Swinging Saloon Doors are almost as rewarding; drawing out the same number of win credits on 4 or 5 that occur as longest winning combo. Two or 3 Saloon Doors though, garners only 2 or 50 win credits, respectively.
Quick Slinger Bam Bam : Wild Symbols
This game depicts Billy's arrival by way of 3 illustrations: "Billy Riding a Horse," "Billy Entering the Saloon" and "Billy in a Poker Game". All 3 represents a Wild Symbol capable of completing, as well as of expanding a winning payline arrangement.
Any spin that delivers those pictures in Reels 1, 3 and 5, in that particular order, activates a round of free games. In the meantime, each of those Wilds can also perform substitution actions when aligned with one-of-a-kind symbols in any paying line.
Quick Slinger Bam Bam : High Noon Shootout Bonus
Three (3) Town Clocks emerging as outcomes of any spin pose as signal that a gunfight involving Billy Fast, is a about to transpire. No worries though because this game's gunslinger is a quickdraw shooter; certain to pull a fast one on his opponent. Players need only to choose the right gun in order to receive the highest bonus prize.
Actually, every time 3 or more Town Clock tokens land as spin outcomes, an instant Bonus Prize will be awarded. Three, four or five Town Clock images scattered across the grid, correspondingly award a Scatter Pay equal to 5x, 25x or 150x the current Total Bet.
Quick Slinger Bam Bam Free Games
A round of 15 free games kick off every time all 3 Billy Wild pictures land on Reels 1, 3 and 5. This Quick Slinger Bam Bam bonus feature triples all payouts earned via free-spins.
If another scattering of Town Clocks land as outcomes of a free-spin, it means a gambler is challenging Billy Fast to another another High Noon Shootout. All the better for Bonus Game players, since they will surely receive an extra bonus prize from the Shootout challenge.