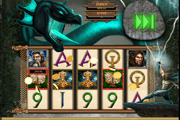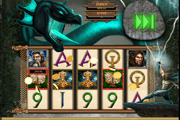 Ragnarok Fall of Odin Online Slot – Level-Up Bonus Games for Higher Multipliers and More Bonus Wins
Ragnarok Fall of Odin is an online slot creation of Genesis Gaming deployed via Microgaming's Quickfire gaming platform. This online casino recreation features a tri-level bonus game that gives players bonus play options as means to collect bet-free bonus rewards.

Ragnarok in Old Norse is the biblical last battle between good and evil (Armageddon) as a prologue to the end of the world. Genesis Gaming presents the battle theme via three Bonus Game Levels. Still, players must first engage in reel-spinning actions in order to land on the Bonus Game trigger symbols.
Ragnarok Fall of Odin Online Slot Bonus Game Scatter Symbol
The image of an Yggdrasil or the Tree of Life in Norse Mythology, represents the Bonus Game Scatter Symbol. Three (3) or more of such images appearing simultaneously as outcomes of a paid or free spin, trigger the launch of the Level 1 Ragnarok Bonus Game.
At least two (2) and up to five (5) Yggdrasil Scatter Symbols award bonus pays of 2, 5, 10, or 50 coins multiplied by the total amount staked on the triggering spin.
Ragnarok Fall of Odin Online Slot: Tri-Level Bonus Games
Ragnarok slot players who succeed in entering the Bonus Game will be presented with three (3) Rune images; each rune representing the three (3) Bonus Game Levels. However, unless a player has collected a specific number of Red Runes, only Bonus Game Level 1 is available, as the other choices remain locked.
Bonus Game Level 1: Thor vs. the Midgard Serpent Battle will award 10 free spins. Here, all payline wins are doubled. Bonus game players should take note of a Red Rune overlay that appears during the free round. The overlay will be transferred to the beehive-like casing located on the right side of the slot screen as means of tracking the number of Red Runes already collected. Once a bonus game player has amassed the specific number of Red Runes, a higher Bonus Game Level will be activated accordingly.
Bonus Game Level 2:-Freyr vs. the Fire Giant – Unlocking this bonus game option requires a collection of 15 Red Runes. The segment gives players three (3) chances of attacking the fire monster. Each attack will reveal a reward in the form of coin credits or a 5x Win-Multiplier. The latter will apply to any coin credits collected from playing this bonus game level.
Bonus Game Level 3: Odin Free-Spins Game requires a collection of thirty (30) Red Runes. The Odin Bonus Game awards eight (8) free spins with Multipliers ranging from 5x, 6x, 7x or 10x. Moreover, the reels randomly produce a special Rune Symbol that awards instant coin credits; or, designate an icon as a Wild Symbol that can replace all Rune icons appearing as outcomes. A free-spin can also potentially produce three Scatter Symbols that will retrigger the Odin Free-Spins Bonus Game.
To help players form matched-symbol groupings, Wild Symbols may emerge, and are usable as substitutes for regular icons in order to complete a payline win.
Ragnarok Fall of Odin Online Slot Wild Symbol
An image of a sacred Rune represents the Wild Symbol. It appears in any row or reel, and has the capability to form its own winning payline combination. Two (2), three (3), four (4) and up to five (5) Wild Runes appearing in a payline, award 2, 100, 750, or 1,000 coins as payline wins.