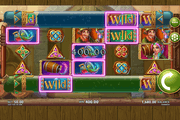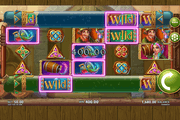 Rainbrew Online Slot: Get Big Wins Going via the Sidewinder Feature!
Rainbrew online slot is a Just for the Win (JFTW) content available at online casinos supported by the Microgaming platform. Reels are embellished with images and symbols with Irish motifs, depicting a Leprechaun at work in his brewery of rainbow potions. Three (3) types of Wild Symbols occur in different spots. Two of which can activate special Horizontal Reels located at the top and bottom sections of the 3×5 grid.
Hitting winning combinations is as easy as 1-2-3, as 3 or more alike icons, need only to land on adjacent columns starting from the far left position. The icon-matching challenge gets even easier if one or both Horizontal Reels spin simultaneously and carry out the Sidewinder Feature. The latter produces additional Wild Symbols in the Top or in the Bottom Horizontal Reels. Now if both Horizontal Reels are active, then more Wild Symbols will appear. This is certain to happen in free rounds, as both Horizontal Reels go live throughout the bonus bout.
Payouts are based on a Total Bet Multiplier corresponding to the number of matched elements composing a winning arrangement. The Leprechaun icon, is of course, the highest paying reel element; awarding 2x, 5x or 8x the Total Bet on 3, 4 or 5 that turn up as winning combos.


Rainbrew Online Slot: Wild Symbols
Wild Symbols are elements that can help organise or lengthen winning arrangements by way of symbol representation. Although this game has 3 types of Wild Symbols to offer as eligible substitute icons, they cannot form a paying arrangement.
Each Wild Symbol variant takes position in a specific reel. Yet if a Horizontal Reel is active, they may also occur as outcome/s of that special section.
The Blue Wild, also referred to in this game as the Top Wild, because it activates the blue-colored Top Horizontal Reel. Blue or Top Wilds emerge as outcomes of a regular spin only in Reel 2. Now if the Green or Bottom Horizontal Reel is active, Blue Wilds may also occur in this section.
The Green Wild or the so called Bottom Wild, because it activates the green-colored Bottom Horizontal Reel. Green or Bottom Wilds are exclusive to Reel 4 only, if emerging as outcomes of a regular spin. It may also appear in an active Blue Horizontal Reel.
Rainbow Wilds pose as Regular Wild Symbols as they have no extra function in addition to acting as substitute icon. Rainbow Wilds though emerge only in Blue and/or Green Horizontal Reels, along with any of the applicable Blue or Green Wilds.
Rainbrew Online Slot: Sidewinder Feature
The Sidewinder Feature embraces all gaming aspects related to the activation of the Top and Bottom Horizontal Reels.
When a Blue Wild activates the Top Horizontal Reel, Green Wilds may emerge in this blue section. Aside from improving a spin outcome with additional Wild Symbols, the emergence of a Green Wild in the Top/Blue Horizontal Reel activates the green-colored Bottom Horizontal Reel. The same is true if an active Bottom/Green Horizontal Reel produces a Blue Wild; albeit this time, activating the Top Horizontal Reel.
However, such occurrences are rare, since both Top and Bottom Horizontal Reels produce mostly Rainbow Wilds.
Aside from enhancing the grid with Multiple Wilds, the Sidewinder Feature can also increase chances of setting off a round of free games. If two (2) Free-Spins Symbols land on Reels 2 and 4, both Top and Bottom Horizontal Reels activate. The next best thing that may happen is when any of the Horizontal Reels produce a Free-Spins icon that will complete a 3-symbol Free-Spins Scatter Combo. If so, the game will advance to the Rainbrew Free-Spins Bonus Round.
Rainbrew Online Slot Free Games
A scattering of 3 or 4 Free-Spins icons unlocks 6 or 10 bet-free games, respectively. During the round, both Top and Bottom Reels are active; but producing only Rainbow Wilds and Free-Spins Symbols. Still, the constant supply of Rainbow Wilds in those special sections, can increase the number of win ways to 1,129 in all.
Bonus Spins produce Free-Spins Symbols only via the Horizontal Reels. The only way of activating another round of free games therefore, is by landing on 3 or 4 Free-Spins tokens in those special reels.