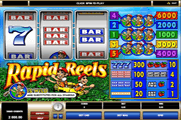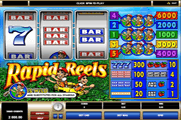 Are you ready to swim into seas of cash in order to claim great prizes and rewards, this is because this is exactly what Rapid Reels is going to offer you. The game is all about money and rewards and despite being a 3-reeled slot machine, it has plenty of rewarding line payouts as well as special symbols. Under the reels, players will see two lucky players wearing life jackets and rowing their way on a boat as they go through a sea filled with green dollar bills. So place your wagers and spin the reels so you can get to claim your share out of the floating fortune.

The symbols that spin on the 3 reels of this slot machine are inspired by both, the theme of the game as well as classic slots. These symbols include the traditional bar symbols (1 yellow bar, 2 blue bars and 3 red bars), red cherries, silver sevens and the last symbol, which is also the highest paying one, which is represented two players rowing their way in a sea of cash. Players who get three of these symbols on a payline of the game will earn the jackpot payout of the game. The amount of the payout depends on the number of coins that players have placed. If they placed 1 coin, they will earn 1000 coins, if they placed 2 coins, they will earn 2000 and if they placed the maximum bet of 5 coins, they will earn an outstanding payout of 6000 coins.
The game has three spinning reels, which are found on the left side. Across the three reels, players will see a total of five paylines on which they can create winning combos to earn payouts. In order for them to be able to get a payout, they will have to form a winning combo of matching symbols on these lines. The payouts and the combos they can earn are found on the right side in the paytable of the game. Some symbols only pay players when three of them appear on the payline while others pay players when one or two symbols appear. For example, there are the cherry symbols that reward players with 1 coin if 1 cherry lands on the payline and 2 coins if two cherries land on the payline. Players will also earn 4 coins if they get any three bar symbols on the winning line of the game.
While most 3-reeled slot machine only offer line payouts, this game offers players line payouts as well as a special symbol. This symbol is none other than the highest paying symbol of the game, the two players who are in a boat in a sea of cash. This symbol is wild, which means that when it lands on the lines of the game, players will have a higher chance of claiming a payout since it will substitute for any of the other symbols.