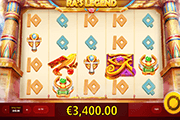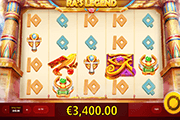 Ra's Legend Online Slot: Win Boosting Gifts from the Sun God May Lead to Big Bonus Wins!
Ra's Legend is a 40-payline online slot from Red Tiger in which the ancient Egyptian Sun God showers the reels with different win boosting features. During any ongoing spin, Ra's Sacred Light highlights one or more random reels. The beam may bring on Ra's Sacred Wild, Reels of Gold or Mystery Symbols. A Sacred Wild is the most significant, because it sets off a set number of free-spins.
This game demonstrates Ra's Legend as a powerful Egyptian Deity whenever Ra descends to award a Valuable Gift. Any Gift is sure to bring major wins, as it can either give players direct entry to the House of Ra Bonus Game, or award a spin of the Multiplier Wheel. Still, those bonus features are accessible by landing on three or more of the House of Ra or of the Wheel Bonus Symbols.


Four (4) popular Egyptian Symbols occur as gilded images, since they represent the high win elements of the game. The Eye of Horus has the highest Paytable Values of 120, 600, or 1200 credits, when 3, 4, or 5, align as longest winning arrangement along a paying line. Another symbol that could bring similar top pays is Ra's Sacred Wild.
Ra's Legend Online Slot: Wild Symbol with Free-Spins Feature
Ra's Sacred Wilds are rare, as the Sun God's symbol usually appears by way of the Sacred Light. Yet this special icon emerges as a full reel image of Ra that is equivalent to a stack of 4 Wild Symbols. The greater significance of the Sacred Ra Wild are the Free-Spins that occur automatically, once the full-reel image is in view.
Sacred Wild Free-Spins – are random number of Free-Spins brought on by the full reel Ra Wild image. Moreover, Ra's Sacred Wild locks in place until completion of the bonus engagement.
Ra's Legend Online Slot: Sacred Light Reel-Enhancements
Aside from bringing down the Sacred Wild along with its Free-Spins Reward, the beam can also enhance a reel with High-Win Icons or with Mystery Symbols.
Reels of Gold may descend via the Sacred Light, bringing forth columns filled only with sets of identical images. Described as Gold because they contain only the high-paying symbols, including the Eye of Horus.
Mystery Symbols may appear as an alternative win-boosting Gift of Ra. Each special icon presented contains a Mystery Reward that a player can claim as Pick Bonus Prize.
Ra's Legend Online Slot: Wheel Bonus Feature
Take notice of the Wheel Bonus Symbols occurring as outcomes of any spin. Three or more landing simultaneously anywhere, activate the Multiplier Bonus Wheel. Ordinarily, Ra awards one (1) spin. Yet if the Sun God is in a generous mood, players may receive more.
The Bonus Wheel contains Multipliers ranging from x5 to x60. In the event a player receives more than one Wheel Bonus Spin, every Multiplier landed adds up. The aggregate value of all Multipliers won as Bonus Wheel prize, times the current Bet, will then be awarded as Bonus Prize.
Ra may present this Bonus Feature as one of 2 gifts that he randomly bestows. If selected , a player gains instant access to the Bonus Wheel play.
Ra's Legend Online Slot: House of Ra Bonus Game
This bonus segment activates if 3 or more House of Ra Symbols land across the play area via a single spin. When presented as a Mystery Gift by Ra, and then subsequently selected by a player, the grid will be replaced by a Pyramid Game Panel.
Participating House of Ra players need only to reveal either a Multiplier or an Arrow Up Symbol hidden in each Gold Tile. All Multiplier Values revealed adds up, and the total carried over to the next Pyramid level as current Multiplier Prize.
However, as players advance to higher Pyramid levels in order to reach the highest possible Multiplier Prize of x800, the number of pick choices decreases. It is important for players then, to unravel the Arrow Up Symbol as soon as possible, as the bonus game may end instantly.