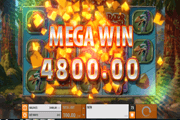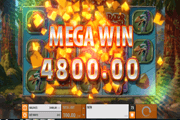 Razortooth Online Slot – Special Wild Features Deliver Amazing Wins!
Razortooth online slot by Quickspin furnishes 243 Bet Ways by which matched symbols can form winning combinations. Showcasing wildlife species with razor sharp fangs, tusks or beak, this online casino offering has razor-edge win-boosting Wild elements in both base and bonus game reels.
The Razortooth Logo represents the Wild Symbol. Usable as eligible substitute to complete a set of identical-symbol groupings, it comes into view in any row or reel after a spin. The Logo Wild Symbols though can have greater impact on the outcomes of a spin, if they come around as results of the Hunt Random Wild and the Savage Wild Features.


Razortooth – Hunt Random Wild Feature
The Hunt Random Wild Feature occurs only in the Base Game. During an ongoing paid spin, a Tiger may leap across the reels, whilst slashing some random parts of the slot screen. Once the spinning stops, the Slashed Spots may reveal up to three (3) Razortooth Logo Wilds. The occurrence could likely lead to multiple matched-symbol combinations that have great potentials to bring around not only Big Wins, and Super Big Wins, but also Mega Wins!
That is only "the tip of the iceberg" so to speak, as slot players can look forward to receiving additional and even greater rewards with the help of the Savage Wild Feature.
Razortooth Savage Wild Feature
The Savage Wild is a Bonus Game element, guaranteed to occur after every bonus spin. Instead of the regular single-tile Logo Wild, the Razortooth signage emerges as a 3-tile high icon, completely occupying a single reel. Even better still is that a bonus spin may produce up to two (2) full-reel Logo Wilds. The event therefore increases greatly the chances of hitting highly lucrative wins. Two (2) full-reel Wild Logos in place after each free-spin, definitely optimises every bonus game engagement.
Razortooth Bonus Game Trigger Symbol
After a paid spin, a gilded icon with a straightforward Bonus label appears in any of the five-reel configuration. Base Game reels returning with three (3) or more of the Bonus Scatter Symbols will automatically initiate the activation of the Savage Wild Free-Spins Game.
Razortooth Savage Wild Free-Spins Game
Once the Savage Free-Spins Game has been activated, bonus game players will receive five (5) bet-free spins. Each of the five bonus spins comes with a guarantee that at least one (1) 3-tile high Logo Wild will emerge as outcome of the returning bonus reels. In some instances, the bonus reels may return with two (2) Logo Wilds as spin outcomes.
This bonus game segment though cannot be retriggered; denoting that the round ends once all five bonus spins have been played.
Razortooth Online Slot Betting Options
All 243 Bet Ways are potentially winnable with every spin. Slot players though must place bets on every spin by staking any of the wagering options displayed by the Total Bet Menu. The bet amounts available are from 0.25 up to 100.00.
Bet Way wins however are paid according to the monetary rewards indicated in the Razortooth paytable. The Tiger image for one is the highest regular-paying icon. A 100.00 max bet spin producing 3, 4, or 5 Tiger totems in adjacent reels starting from the leftmost column, awards as much as 160.00, 320.00, and up to 800.00 respectively.