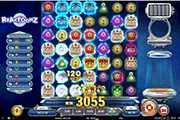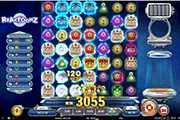 Reactoonz : 5 Quantum Leap Features Boost Chances of Striking Cluster Wins!
Reactoonz is a PlayN'Go online slot in which identical symbols need only to form a cluster in order to garner payouts. Two-Eyed and One-Eyed Toonz drop into a 7 x7 grid, rather than land as reel outcomes of a wagered spin. Here, 5 or more identical images cascading on adjacent positions form a Cluster Win. They may group together horizontally or vertically in any direction and grid positions. Winning Toon images disappear; creating spaces into where images from above cascade and lodge. Should the new Toonz arrangements result to more winning clusters, the payouts attributed to a single bet, increases.
The most exciting aspect of a win event is that every winning symbol works toward the activation of power-up features. Pay attention to the Quantum Leap Collection Meter located on the right side of the screen. The device is instrumental to activating 4 win-boosters and 1 powerful gargantuan element called Gargantoon. Collectively dubbed as Quantum Features, they set off at random once a level of the Quantum Leap Meter has been charged. During a chain of winning events, charging all Meter Levels to full capacity, activates all five Quantum power-ups.


Reactoonz Online Slot: Random Main Game Win-Boosters
This Reactoonz slot also has occasional surprises outside of the Quantum Leap Collection Feature. They occur in conjunction with special symbols or outcomes.
Fluctuating Symbols – Anticipate the arrival of marked 1-Eyed Toonz called Fluctuating Symbols. When those images form a winning cluster, they disappear and leave 2 Wild cards behind.
Giantoonz – Four (4) identical icons forming a square-shaped 2×2 Cluster, turn into a Giantoon that comes with a 2x Win-Multiplier. The Multiplier applies if the Giantoon becomes part of a Cluster Win.
Reactoonz Online Slot: Quantum Leap Collection Feature
Every winning symbol of a wagered play charges the Quantum Leap Collection Meter. The indicator has 5 Charge Levels. To charge up a Level, at least 25 winning symbols must contribute uninterruptedly. Otherwise, the Collection Meter resets then charges up anew on the next wagered winning event.
Every time a succession of win events accumulates enough winning Toonz to fully-charge a Level, a Quantum Feature activates. The feature sets off once the winning streak ceases.
Yet it is possible to fully charge all Meter Levels via a series of winning events. If so, the 4 color-coded Quantum Features set off in random order once the winning streak ceases. After which, the 5th and final Gargantoon element will release all its Wild-boosting powers onto the Reactoonz reels.
Quantum Implosion – A Yellow Orb strikes the slot screen to change 3 up to 6 random Toonz into Multi-Coloured Orbs posing as Wild Symbols.
Quantum Alteration – A Quantum Feature embodied in a Green Orb. When activated, it randomly selects a One-Eyed Toon to replace. If images of that particular Toon cascades as part of the fresh batch of elements, the green Alteration Orb will change them into a single type of symbol that can create better or bigger Cluster Wins. Now in cases when not a single 1-Eyed Toon is in view, any random icon will be selected.
Quantum Demolition – is a Quantum Feature that unleashes its power by way of Red Orbs. It Destroys each and every type of 1-One Eyed Toonz present. The removal actions heighten chances of landing only higher-paying, 2-Eyed Toon Cluster Wins.
Quantum Incision – Carries out its Quantum Leap action via a Blue Orb. The latter places a Wild Symbol at the exact center of the grid, then cuts 2 diagonal lines intersecting at the Center Wild. All Toonz previously appearing on the affected positions will then be replaced by a single type of Toon image.
Gargantoon is the only 3-Eyed Toon image that lands on the Reactoonz grid, only if the 4 Quantum Features occurred in succession. Initially, the Gargantoon image lands in an arbitrary position as a 3 x 3 block of gargantuan icon.
If after a cascading action the fresh set of Toonz arrangements does not result to a win, the Gargatoon splits its image into two smaller 2×2 Wild Gargantoon icons. Now if the change is still not enough to produce a win, the Wild images transform into 9 1×1 Gargantoon Wilds.