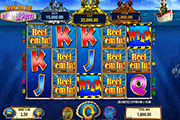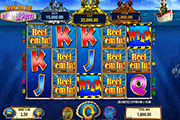 Reel 'em In Lobster Potty : Reel In Bonus Prizes When Background Turns Sandy
Reel 'em In Lobster Potty is a 20-payline angling-themed online slot by Barcrest/SG Interactive. Fishing expert or not, players can reel in prizes easily once the fish and lobster elements virtually run aground. Initially the 3 x 5 grid displays an assortment of symbols against a deep sea water background. When the backdrop of all five (5) reels turn Sandy, the event brings either Reel 'em In Bonuses or one of three (3) Lobster Bonus Pots.
Still, as this is an icon-matching game, slot players earn mainly from alignments of three or more matched images. A line up though must start from the leftmost position of a pay pattern. The best payline catches are the Reel 'em In Logo icons, being the element with highest Paytable values. Three, four, or five Reel 'em In tiles forming a winning combination correspondingly award 100x, 200x, or 500x the amount staked as Line Bet.


Wild Symbols appear to boost chances of completing winning payline arrangements. However, the Wilds here take random positions only in Reels 3, 4, and/or 5. Since this game is playable in Barcrest's Big Bet (BB) Reels, opting to launch spins with BB stakes will bring in more Wild substitution actions and even Wilds with Win-Multipliers.
Reel 'em In Lobster Potty Online Slot: Bonus Features
Anyhow, whether played with Regular or Big Bets, pay close attention to the game board once all five (5) reels turn Sandy. Such an occurrence tends to close some of the reels, leaving only one or more active for the forthcoming Bonus Play.
A current grid-configuration awards either the Reel 'em In Bonus Feature or the Lobster Bonus Pots. Also, whichever of the two (2) Bonus Features occur, Reel 'em In Lobster Potty players are certain to reel in a Bonus Catch.
Reel 'em In Bonus – Here, active reels display only Fish images. The Sandy Reels though contain more varieties of Fish elements compared to those occurring in the base game Deep Sea Reels. Each type of Fish icon comes with a corresponding bonus reward that players are certain to collect at the end of the feature.
In order to keep track of all prizes brought in by the emerging Fish images, a Bonus-Win Meter below each reel runs a tab; continuously adding all bonus prizes as they occur.
In the event that a Boot totem appears in a reel, that particular column closes. This denotes that once all active reels return with a Boot image, the Reel 'em In Bonus Feature ends.
Lobster Bonus Pots – This feature activates only the centre reel that displays Gold, Silver or Bronze Lobster icons. The reel also comes with a Prize Pointer, as the type of Lobster that lands next to it will award the corresponding Lobster Bonus Pot.
Landing on a Gold Lobster brings on a Bonus Pot containing a reward equal to 500x the value of the current Total Bet. The Silver and the Bronze Lobster on the other hand, award 200x or 100x the Total Bet, respectively.
Reel 'em In Lobster Potty Online Slot – Big Bet Game Mode
Choosing to play this game via the Big Bet (BB) Mode may prove to be more lucrative, since the BB reels are enhanced with additional Wilds and special Wild Multipliers. A BB stake, whether 20.00, 30.00 or 50.00, covers five (5) consecutive spins. The BB amount placed as wager, determines the type of Wild enhancements occurring during each 5-spin set.
BB 20.00 – comes with a "More Wilds More Often" guarantee.
BB 30.00 – launches a play for the "Big Bite Bonus." A Shark's random appearance may add a x2 Wild-Multiplier. The Multiplier applies if that particular Wild forms part of a payline win.
BB 50.00 furnishes reels for the "Mega Bite Bonus," in which the Multiplier-bearing Shark may add a x2, x3, x4, or x5 Multiplier to a Wild Symbol. Again, if the Multiplier-enhanced Wild Symbol forms part of a winning arrangement, the Multiplier Value displayed by that Wild will increase the related payout.