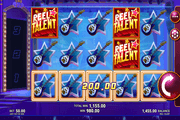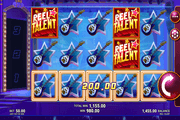 Reel Talent Online Slot: Unique Symbol Storage Feature Awards Respin/s and Super Spin
Reel Talent online slot is a 20-payline game conceptualised by Just for the Win (JFTW) for the Microgaming platform. Slot elements are highly imaginative, showcasing talented circus animals as performers in a different light.
The Lion is still king, presiding over the game as Master of Ceremonies. Next to the Reel Talent Logo, the Lion token ranks as second highest-paying symbol. A Fire-Breathing Alligator, a Wolf Singer and a Rabbit Magician, all come around as medium-win icons. High-paying winning symbols create greater impact when they become elements of a Super Spin.
Getting to the Super Spin feature though, requires collecting 3 images of winning symbols, by way of consecutive turns. A Respin triggers on every win-event that produces the first storable winning icon. If the Respin results to another win-outcome, the free turn as well as the symbol collecting activity continue. Not unless, the Symbol Storage panel already has 3 winning elements in place. At that point, the next free turn levels-up as a Super Spin.


A Wild Symbol appears from time to time; boosting players' chances of striking a payline win. Wild Symbol participation though is limited to symbol substitutions. If occuring as components of payline wins, completing Wilds do not count as storable elements.
Microphone, Torch, Guitar and Playing Cards have less to offer as rewards when occurring as payline combos. Yet the frequency by which they occur as winning symbols, increases chances of triggering the Respin, and possibly, the Super Spin features.
Reel Talent Online Slot: Respin with Symbol Storage Feature
One or more payline wins produced by a paid spin, triggers a Respin of all reels. Running in conjunction with the Respin feature, is the storing of all icons composing winning arrangements.
If a paid spin produced only one winning combination, then only one symbol goes to the Symbol Storage panel. Multi-payline wins therefore will add more than one winning element to the Symbol Storage.
Players need to store at least 3, which they may get to accomplish through the Respin that follows.
Symbol Storage Feature – Stored Symbols do not have to be different. This means that if an icon produced 2 payline combos via a single spin or Respin, 2 images of that winning element will appear in the Symbol Storage Panel. That being the case, a spin or Respin that yields multiple payline wins can fastrack the completion of the Symbol Storing activity.
Respins continue if on every free turn, a payline win transpires. If otherwise, the game reverts to the paid mode, whilst discarding any symbol stored in the storage panel. On the other hand, instantly filling up the Symbol Storage also ends the Respin Feature, as such event triggers the Super Spin Mode.
Reel Talent Online Slot: Super Spin Mode
A Super Spin runs a grid in which only the Stored Symbols appear as reel elements. Three (3) types of Super Spin may activate, depending on the variation of symbols stashed in the Symbol Storage Panel.
Show Time Stage uses a pink backdrop if the Symbol Storage contains three (3) different Winning Symbols.
Big Stage – Set against a blue backdrop, a Super Spin rolls this stage if the Symbol Storage contains 2-of-a-kind icons plus another type of symbol,.
Solo Performance Stage, if activated, is certain to produce substantial bonus yields. That is because this purple stage activates only if the Symbol Storage collected 3 units of a single type of icon.