User Rating: Be the first one!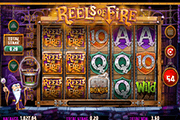 Reels of Fire Online Slot: Land Big Wins via Magic Multiplier and Other Base and Bonus Game Features
Reels of Fire online slot by OpenBet comes with 20 paying lines on which two  or more matched symbols may land a winning arrangement. To make the icon-matching mission more exciting, the game has several win and pay boosting attributes occurring at random. Watch the Wizard closely, as he can make the Win Multiplier Meter rise. Notwithstanding that by default, this game pays 2x the value of every prize won via any spin.

Moreover, the featured Magician randomly enchants images in view and turns them into additional Wild Symbols. The Wizard can do more, including rewinding a Reel in order to complete a combination that instantly triggers the Free Round. There, players benefit from a special symbol that can ignite the Wild Reel Feature. Once a flame ignites, Wild Reels may spread like wildfire to neighboring columns.


Know that the Reels of Fire Logo is the highest paying icon. Two, three, four, or five Logo elements converging as payline contents, award a cash prize equivalent to 2x, 40x, 100x, or 150x the Line Bet. Matched images though must converge starting from the leftmost column in order to earn players the corresponding payout.
Reels of Fire Online Slot: Wild Symbols
The Wild icon appears in any reel. When combining with identical images within a payline, it can pose as eligible alternative symbol to complete, or expand a winning combi. The payout garnered by the longest combination occurring as payline win, follows the pay scheme of the non-Wild winning symbol.
Expect greater rewards, if the Wild emblem occurs as matched contents of a payline. Two, three, four, or five Wilds aligned as winning combo, rake in 2, 50, 150, or 200 times the value of the bet staked per line.
Chances of hitting Wild-completed wins, and even Wild Wins, get a boost from random Wizard spells such as:
Wild Wizard Event – This is a base game random feature in which the Wizard highlights one (1) up to five (5) images occurring as spin outcomes. The selected symbols subsequently turn into additional Wild icons that can greatly improve the results of the triggering spin.
Wildfire Reels are full-reel images of a blazing Wild Emblems that appear only during free games. Once activated by an Ignite Symbol. the first Wildfire Reel emerges in Reel 5. More Wild Reels may appear, as neighboring columns can catch fire every time the Ignite Symbol emerges as outcome.
All win events are significant because this game pays 2x the value of the payout garnered by any spin. Actually, it could go higher once the Wizard decides to apply his Magic Multiplier spell.
Reels of Fire Online Slot: Magic Multiplier
This feature is available in both base and bonus games. Take note of the Multiplier Meter on the leftside of the screen, and its display of Multipliers starting at x2, up to x10.
On any spin, the Magician may decide to increase the Win Multiplier by raising the Meter Bucket one level higher. If the first Multiplier progression results to a win, the Bucket will rise to the next Multiplier Level.
The progression continues if the next spins will likewise produce win outcomes. Still, even if a spin fails to strike a win, the Magic Multiplier drops by just one level. That way, Multiplier progression resets at a value higher than the default 2x factor.
Reels of Fire Online Slot: Free Games
The Bonus Game trigger symbol comes with an illustration of a Furnace. It comes into view only in Reels 1, 3, and 5. When all three reels return with a Furnace Symbol, the free round activates; automatically setting in motion, 15 free-spins.
The great news is that the Furnace Icon has a random nudge feature that powers up chances of activating the free games. In the event Furnace Bonus Symbols landed on Reels 1 and 2, but not on Reel 5, the latter column rewinds in order to roll back the completing Furnace Bonus icon.
The new set of reels contains a special Ignite Symbol that can set the reels ablaze with Wildfire icons. The first Ignite icon that appears during the round, sparks a flame that turns the 5th column into a sticky Wildfire Reel. Subsequent Ignite Symbols in view, will likewise create additional sticky Wildfire Reels in positions adjacent to the Reel 5 Wildfire.
Reels of Fire : Awesome Wild-Enriched Game that Pays 2x or Even Higher on All Wins
Reels of Fire online slot is a Wild-driven game as the reels may fill with Wild Symbols via random base and bonus game features. Such occurrences greatly boost chances of raking in winnings multiplied by a default 2x factor. Even greater still is that the game has a Magic Multiplier that promotes multiplier progression up to 10x.