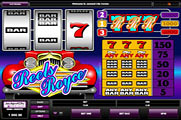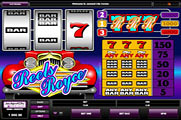 Reels Royce Casino Slots
Rolls Royce is the royalty member of the car world, and this game, Reels Royce is the royalty of the classic three reeled slots' world. This is why players will see a car that looks like a Rolls Royce parked under the reels with the name of the game on top of it. The game has a classical setup that resembles the setup of old slot machines that players used to play at restaurants, pubs and bars. Players will see the three reels of the game located on the left side at the top. These three reels have three different paylines that is located on these three reels, the symbols that will land on these lines are the ones that will count. If players get three matching symbols on any of these lines, they will get to earn a payout.

The Pays of the Casino Slots
The amount of the payout depends on the icon that they have matched, players will be able to check the different payouts of the different symbols at the paytable of the game which can be seen on the right side. Players will see each symbol and its respective payout. The symbols that appear on the lines and the reels of the game include light blue sevens, red sevens and bar symbols.
The highest paying symbol of this slot machine is the Light Blue Seven with the R on top of it. It can give players 1000 coins, 2000 coins and 4000 coins if they have placed 1 coin, 2 coins or 3 coins respectively. This is why it is better to always place the biggest bet so you can have a chance at triggering the jackpot of the game, which is equal 4000 coins.
Speaking of the bets, they can be simply placed under the reels by going through the different betting options. These options include the number of coins, which players can toggle between by clicking on the "Bet One" button to decide whether they want to place one, two or three coins. They will also control the value of these coins by clicking on the two symbols, the + and the -, in order to go through the available coin values. These values vary between 0.25 and 5 credits. This means that the wagering range of the slot machine starts at 0.25 and ends at 15 credits for each single spin on the slot machine.