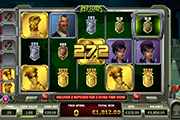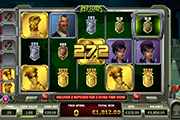 Reptoids Online Slot: Unique Reptoid Detector Uncovers Wilds that can Complete Payline Wins!
Reptoids is a 20-payline online slot by Yggdrasil Gaming that runs on a creepy alien-invasion theme. Images of six (6) human characters from all walks of life, including government and military leaders, land as top pay symbols that could turn into Wilds. This game features a Repto Detector Frame that uncovers the Wilds hidden behind each human persona. A more significant function of the detection device is that it can also be instrumental in activating the Free-Spins Bonus Round.
During free games, the Reptoids Detector Frame is more efficient. Any human character unmasked as Reptoid Wild will remain as such throughout the round. As the free session progresses, bonus spin outcomes therefore, will likely include more win-boosting Wild Symbols.


Of the six (6) human images, players can get the most reward from the image representing a High Government Official. Three, four, or five of that character, correspondingly garner coin credits of 50, 150, or 1000, on whichever arrangement occurs as longest grouping per payline. Yet the highest Payout Values can come from the Gold Coin Scatter Symbol, it awards 200, 2,000, 20,000, or 100,000 coins on 2, 3, 4, or 5 Gold Coins scattered across the Reptoids grid.
Reptoids Online Slot: Repto Detector Frame
The Repto Detector Frame is the metal-like enclosure that travels from reel to reel during each spin. If a human character lands on the detector device after a spin, the image becomes a Reptoid Wild. In that spin outcome, all other tiles containing that particular human icon, will likewise turn into Reptoid Wilds.
Reptoids Online Slot: Wild Symbol
That being the case, Wild icons do not appear as regular outcomes of a spin. Since they initially appear as images of human personas, they can form payline combinations as groupings of identical icons. Yet when a man or woman symbol turns into a Reptoid Wild, the latter can complement and combine with any symbol.
A Reptoid Wild though, must be aligned in the same payline as the identical images, in order to qualify as suitable alternative icon.
Reptoids Online Slot: Free Games
The Repto Detector Frame also functions as a Free Games activator. If by chance the device captures a Gold Coin Scatter via a paid spin, the event immediately sets off the Reptoids Free-Spins Round.
Bonus Game players receive seven (7) free-spins as initial reward. However, triggering additional bonus spins requires more than just landing on a Gold Coin Scatter Symbol. In fact that particular icon is not an active element of the Reptoids Bonus Reels.
Extra Free-Spins are corollary to the workings of the bonus-game Repto Detector Frame. During free games and on any spin, every two (2) human icons unmasked as Repto Wilds, bring an equivalent of two (2) Extra Free-Spins. Moreover, once a human has been revealed as a Repto Wild, it will remain in that state through the end of the bonus bout.
The Repto Detection Progress Bar – is the vertical panel displayed on the left side of the Reptoids slot screen. It keeps track of the Reptoid Wilds already active as bonus reel elements. At the same time, it furnishes a count of every two (2) successful Repto Detection values that award 2 Extra Free-Spins.