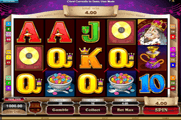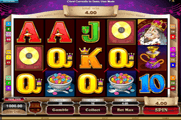 Free Slots Game Rhyming Reels Old King Cole from the Microgaming Collection
Old King Cole is part of the Microgaming Rhyming Reels collection of video slot machines that feature tales from Mother Goose. In the world of online gambling, there are memorable games that players use as their go-to games.
This online slot is a fun escape back to a simpler time where magic intersects with imagination.  Discover the light-hearted, reel spins with colorful graphics.
Microgaming Developed and Player Approved
Old King Cole Rhyming Reels is one of these slots. This game is presented to players in outstanding graphics and an old school soundtrack that has the ability to fill the heart of players with joy and warmth.
The symbols that appear on the reels of Old King Cole are all old school as they respires numerous kingly poker symbols, a cup of sweets, a golden CD, Old King Cold symbol and a crown among other symbols. As a work of online slot software, this five reel slot machine is impressive for the quantity of features the developers were able to include.
The wild symbols, of which there are two, are the logo of the game and the golden record. The scatter symbol is the crown. Players will earn up to 15 free spins on the video slot. Any player that enjoys the feature known as "gamble" will be glad to know that Old King Cole has one.  On any win that is not a "big win" or "jackpot win" players will have the opportunity to play the gamble feature game and have a chance at increasing their previous win by double and up to four times.

The Rhyming Reels Old King Cole free slots game is going to provide you hours and hours of play time that you will enjoy when you sit down to play. This game is a combination of the old free slots game that were traditional in their setup. There are many ways to play the game based on all the bonuses that you could get, and there are betting options that are a little bit less than normal. Try the game out to see how it goes when you are preparing to spend a little time playing.
The Way The Game Is Played
The game runs like a normal slots game, but it is a game that gives you a few curveballs along the way. You have to be ready for the curveballs so that you can make more money when you are stuck in the game. The game will toss and turn you as you play. The reels that you spin are going to give you results that look like regular slot machines. The wins could be pretty good, but you might not win anything when you spin. If you miss something when you spin, you can take the gamble option to see if you can multiply your winnings when you hit a better set of paylines.
You can get a jackpot win or a big win the second time around if you partake in the gamble option, and you will get 15 free spins if you are lucky enough to get the free spin option. The free spins let you keep going when you are sure that you are going to lose, and they allow you to keep the bonus round going once you get there. You might think you are going to lose, but you could come back in style with the gambles you take.
The bonus round of the game is going to double, triple or quadruple your winnings depending on how your spins go. Your spins should be made based on where you think the reels will land, and you should take advantage of the gamble function to make sure that you can get back out there and try to win something. There are lots of players who give when they think they are losing, but Rhyming Reels is the kind of game that lets you get back in the game when you are ready to throw in the towel.
You should try to play this game when you have some spare time on your hands. You will find that you can win tons in this game, and you will be able to hit literally every kind of combination you can find. You are straddling the worlds of old slots and new, and you are playing a game that is not over until you have finished your very last spin. There is always a way to get back in the game, and you will have more fun than you thought as the game goes along from spin to spin.