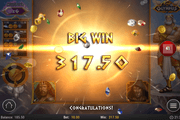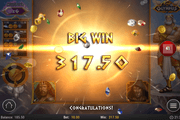 Rise of Olympus Online Slot : 3 Ancient Greek Deities Boost Chances of Hitting Vertical or Horizontal Wins
Rise of Olympus online slot by PlayNGo presents an exciting game in which the icon-matching challenge can be achieved with ease. Three or more alike icons need only to align vertically or horizontally in adjacent positions. Awesome even is that several powerful features may occur, to further boost chances of striking icon-matches.
This Rise of Olympus online slot changes elements by rolling down new sets of symbols. If a set produces winning vertical or horizontal alignments, the winning elements disappear. Their removal will then create gaps that will allow symbols from above to cascade; therefore filling the grid with new icons at no extra cost. The bet-free occurrences continue, if every new set of arrangement produces winning results.
Other exciting events happen every time a 3-symbol win transpires. Once the winning icons disappear, and before symbols cascading from above lodge into gaps, a Wild Symbol automatically settles on the middle winning position. All the more increasing chances of setting off a series of bet-free wins. The most exciting part is that in a chain of winning outcomes, the 1x multiplier increases by 1 on every win event.

Three ancient Greek Deities meet and clash, each character taking turns in imposing their might on the reels. Apparently, the rise is an alliance between Olympian gods Zeus and Poseidon, versus the underworld god Hades. Aim to activate the Wrath of Olympus Free-Spins Feature, as all 3 deities appear consecutively to deliberately perform their respective win-boosting actions.
Each powerful action comes across as the Hand of God feature. It transpires at random during base spins, usually after a non-winning spin. Yet during free games, the deity delivering the free round will constantly use his Hand of God attribute, in order to heighten possibilities of generating high-value bonus wins!
Rise of Olympus Online Slot: Wild Symbol
Gold Coins landing on any spot can create a rewarding impact, especially if they land next to 2 or more adjacent identical symbols. After all, Gold Coin tokens are Wild,Symbols that can complete or lengthen vertical or horizontal alignments of identical images.
Gold Coin icons can also form winning combos, while helping other matched elements complete theirs. When 3, 4 or 5 Gold Coin Wilds turn up as a winning combo in a reel or row, the longest of the arrangement formed, draws out 20x, 60x or 100x the Coin Bet as reward.
As mentioned earlier, a Wild Symbol is certain to emerge as replacement of a disappearing icon; taking the middle position as its rightful place. Now in a series of wins that will leave only the replacement Wilds as grid content, the game automatically removes the special icons to clear the grid. That way, players achieving such outcome can advance to the regular Free-Spins Bonus Round.
Rise of Olympus Free-Spins Bonus Round
One of three (3) types of Free-Spins Bonus Round activates if a continuing series of wins leaves the entire grid devoid of any element. Players have three (3) Free-Game options, each of which will constantly deliver a Hand of God power-up feature on every non-winning spin. The Hand of God in play depends on the ancient Greek God charged with delivering the bonus round.
The great news is that the win-multiplier value attained by the chain of wins that cleared the grid, will carry over to the free round; still having potential to increase up to 20x.
Hades unlocks 4 retriggerable Free-Spins. To change the arrangements of a non-winning spin, he will perform his Hand of God action. Hades has the power to turn a set of one-of-a-kind symbols into a different set of elements; the kind that will likely produce winning results.
Poseidon releases 5 Free-Spins and may recharge the round with 3 additional free turns. This Olympian god adds up to 2 Gold Coin Wilds to the reels in order to modify the outcome of a non-winning free-spin. The Hand of God add-on Wilds, will take on positions guaranteed to deliver winning alignments. Since 3-symbol wins can automatically bring forth Gold Coin Wilds, a series of wins has great chances of transpiring before the bonus round ends.
Zeus initially activates 8 Free-Spins and may extend the bonus round with 2 more extra turns. This powerful Olympian god can destroy 2 sets of symbols. Zeus' Hand of God action empowers one-of-kind, non-winning elements to drop into places where they can complete winning arrangements.
During any round of free games, the Wrath of Olympus feature is not likely to activate.
Rise of Olympus Wrath of Olympus Free-Spins
Take note of the circular Wrath of Olympus Meter appearing on the left side of the grid. This meter charges up every time a Deity delivers a winning arrangement. A 3, 4 or 5 -symbol win correspondingly fills up 1, 2 or 3 sections of the meter; denoting that longer winning arrangements can fill up the meter at a faster pace.
Fully charging the Wrath of Olympus meter will set off bonus spins depicting the clash between the underworld god Hades and the Olympian deities Poseidon and Zeus. On the first free roll, Hades imposes his Hand of God. Once the winning results of Hades' action ends, Poseidon will take over to perform his own Hand of God act. After Poseidon has accomplished his objective, Zeus will then have his turn in delivering the winning effects of his powerful Hand of God