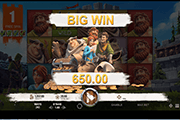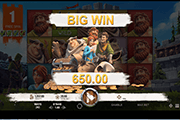 Robin of Sherwood Online Slot: Royal Symbols Pave the Way for Striking Big Wins!
Robin of Sherwood online slot brings to life the legendary folklore hero, not to rob but to pave the way for hitting awesome wins. Maid Marion, Friar Tuck, Little John and the Sheriff of Nottingham complete the cast of high paying characters. Yet the low-win Royal Symbols are the icons to anticipate. The A, K, Q and J Symbols are instrumental to Robin's win-boosting schemes.
On any random base-game spin, a Robin of Sherwood animation may shoot arrows at the 3×5 grid. Such events trigger the "Wild Turning Feature," which entails modifications of one or more Royal Symbols into Wilds. During free rounds, the legendary archer takes a different approach in enhancing outcomes of bonus spins. Thru the "Royal Clearing Feature," the folklore hero will make it possible for players to land high impact wins!


Microgaming configured the grid with 243 ways by which identical icons can strike wins. Matched elements though must align successively in adjacent reels, starting from the leftmost column. It only takes 20 credits to activate all win-ways on every spin. Moreover, Wild Symbols randomly turn up as outcomes to help complete, or expand winning alignments of one-of-a-kind, regular-paying elements.
Robin of Sherwood Online Slot: Wild Symbol
Robin's Arrows land on reels as Wild Symbol. When aligned with alike symbols in adjacent reels, a Wild can stand-in as alternative component in completing or expanding a winning arrangement.
If by chance five (5) Arrow Wilds converge horizontally and consecutively in connected positions, the arrangement garners a reward equal to 1000x the Line Bet.
During base game spins, occurrences of the "Wild Turning Feature" boost chances of hitting a 5-symbol Wild Win.
Robin of Sherwood Online Slot: Wild Turning Feature
On any ongoing paid spin, the folk hero of Sherwood will use the grid as target; aiming to hit reels that land with any of the Royal A, K, Q and J Symbols.
Since Robin is well-known as a skilled archer, his Arrow Wilds are sure to hit their targets. All Royal Symbols displayed by reels on which Robin's Arrows landed, will then be replaced by Arrow Wilds.
If in case, the occurrence of the "Wild Turning Feature" coincides with the activation of a free round, the Wild feature plays first before the latter carries on.
Robin of Sherwood Online Slot: Bonus Round
A Bonus Round activates once three (3) Target Board tokens land simultaneously on any reel. Thereafter, ten (10) Free-Spins will roll out on a special grid enhanced with the "Royal Clearing Feature."
The Royal Clearing Feature is a win-boosting system that gradually eliminates all low-win icons as potential outcomes of bonus spins.
The clearing out process initialises on the second bonus spin; starting with the elimination of the J icon. On every second spin thereon, the other Royal Symbols, Q, K and A, will likewise be eliminated.
It denotes that by the 9th and 10th Free-Spins, the bonus reels will display only Robin Hood, Maid Marion, Friar Tuck, Little John, Sheriff of Nottingham and Wild Symbols The Target Board Bonus Symbols have been removed at the very onset; eliminating any possibility of retriggering another bonus round.