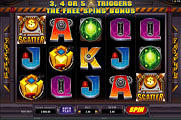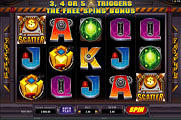 Robo Jack might be a robot, but he is a very generous robot that has life inside of him. All what he wants in life is to help players get paid generously, and he achieves that through this Microgaming video slot machine that is named after him, Robo Jack. He will not do that alone, as he will enlist the help of all of his robot friends. So get ready for a robotic experience that is powered by one of the best gaming developers in the industry.
All what you have to do in order to accompany these robots and earn the great prizes that they have in store for you is to place bets and start spinning the reels of the game. The game has a high paying format as it does not come with the usual line based setup as it has the amazing 243 ways to win format. This means that instead of placing bets on a small number of lines, players would have a total of 243 different chances of winning whenever they spin the reels of the slot. This is why there are only two betting options, as there are no lines to pick from. These betting options are the value of the coins and the number of coins. Players can place up to 10 coins with values that can amount up to 0.25. They will be able to toggle between these values by clicking on the Bet button so they can view the 2 betting options that the game has.

All of the symbols that appear on the reels of the game are inspired by the robotic theme of the slot. This is why they include Robo Jack himself, a green atomic symbol, a chest filled with golden coins, the Robo Jack logo, the robotic scatter dollar sign and card symbols that come in fitting designs.
Each of these symbols will reward players differently when they manage to get matching symbols on one of the ways to win. Players can view the location of these ways and how can they award players through the rewarding pages of the game. These pages can be opened by players who simply click on the "View Pays" button. These pages also show players all of the special symbols and the features that Robo Jack has for them. Players can earn up to 9000 coins through the regular pays of the game.
Speaking of special features, the logo of the game has a very special ability, as it acts as a wild icon that will replace all other standard icons on the game's reels in order to help players in creating a winning combo so they can get paid. There is also a scatter icon, which is scatter dollar sign icon. Three of these symbols will trigger the Free spins round. Players will then see 5 compartments with 5 robots inside. Each robot has unique rewards for players, one will be selected randomly and players will then earn the rewards that the robot has to offer. They include free spins and multipliers to mention a few.
Robo Jack is one interesting slot game that users can find a lot of enjoyment and some great payouts as well.
Theme
The robots offer a great amount of prizes for the player, and all that they have to do in order to get these prizes is to simply accompany the robots and place bets on this game by spinning the reels. Various decals are available for use on the platform, including a green fusion piece, a picture of a steel trunk full of coins, a red flare light, and several wrenches and gear. If you land in any of these in a certain succession, you will get a very generous payout from the Robo Jack robot. The Robo Jack game comes with a variety of colorful items in order to enhance the gaming pleasure of the player. Moreover, besides a colorful design, the Robo Jack game has an astonishing 243 ways for a player to win on the game!
Bonus Rounds
The game has a lot of bonus rounds and special features. To begin with, players of this game should be aware that the main logo of this game, the Robo Jack Robot, also signifies a wild icon that will replace all of the other symbols within the game. For players who are attempting to get a winning combination, this means that they will have yet another opportunity to have a winning round. Another capability that this game has would be that of the scatter icon, which is presented as the dollar sign scatter-type icon. When these symbols are triggered, they will signify the free spins round. In this round, players will see a bonus round which will have five compartments and five robots inside of them. These robots will each give the player some type of reward. Sometimes the reward will be extra spins and sometimes they will give the player a multiplying factor on their winnings as well.
More Game Details
If you want to participate in these free slots there are a number of other things you will need to know. First of all, it is important for beginners to remember that this free slots game does not have the usual line feature. However, they compensate this by offering a high paying feature where there is potential for a user to win on 243 different combinations. There are only two betting options, but a wide variety of coins that the user can place on those bets. Most of the time, a player can place up to ten coins on each bet. If the player wants to see both betting options, all they have to do is simply click the betting option. On the regular pays of this game alone, players can expect to earn up to 9000 coins. The ten coins can range in value all the way up to .25. Truly a fun game that has many payouts for the gaming enthusiast.