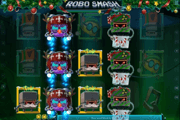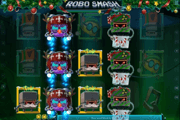 Robo Smash : Free-Spins with Expanding Wilds and Win Multiplier Features!
Robo Smash is an iSoftbet original currently available in its Christmas Edition. This online casino betting game contains 15 paylines, in which charming little Robot icons tend to fall as matched groupings of symbols that earn coin credits for slot players. There is a lot to look forward to in this game, as there are two Special Robots posing as Expanding Wild Symbols. In the event both Robot Wilds land and expand on designated reels, a brief but feature-rich Bonus Round will launch.
Images portraying homemade robots, award coin credits ranging from 15 to 500 on groupings corresponding to 3-, 4-, or 5-of-a-kind icons aligned in any payline. The Special Robot Wilds cannot form their own winning combinations as they are configured to appear only in certain reels. Still, they can boost chances of hitting winning-combinations of regular Robo images, particularly in the Free Games.


Robo Smash Expanding Wild Feature
Contraptions seemingly constructed out of a Football Helmet and a Toaster represents two Special Robot Wilds. In the base game reels, the Robo Helmet emerges only in Reel 1, while the Robo Toaster in Reel 5. If after a paid spin, one of those icons land on the center position of its respective reel, the top and bottom icons of that column will turn into the same Robo Wild image.
Now if both Wilds emerge and expand after a paid spin, the occurrence will trigger the activation of the Robo Smash Bonus Games.
Robo Smash Free Games
Each Bonus Game Round awards five (5) free-spins. The two Expanded Robot Wilds will continue to be in play during the free turns. As an added feature, the stacks of Helmet and Toaster Wilds simultaneously shift positions on every spin in the following manner:
Bonus Spin 1 : The two Expanded Robot Symbols remain in Reels 1 and 5. Any wins achieved by this spin will be assessed and awarded accordingly.
Bonus Spin 2 : The Robo Helmet will move to Reel 2, while Robo Toaster to Reel 4. The images in Reels 1, 3 and 5 disappear, and then replaced with a fresh set of symbols. All resulting wins produced by this spin will be doubled by a 2x Multiplier.
Bonus Spin 3: The two Robot Wilds move toward Reel 3. The collision of the totems in a single reel will display a Wild Reel containing both Helmet and Toaster Robots. This time, all images in Reels 1, 2, 4, and 5 vanishes, to make way for new icons that may work positively with the Reel 3 Wild. Landing on wins via this free turn will be the most beneficial, as all rewards won via this spin will be tripled (3x).
Bonus Spin 4: Here, the Helmet and Toaster Robot Wilds reappear in Reels 2 and 4, respectively. Symbols disappear and subsequently replaced in Reels 1, 3 and 5. The new arrangement may result to additional payline wins appraised at 2x the value of the standard payout.
Bonus Spin 5: The Special Robot Wilds return to their base reels, and combine with a fresh set of reel images that could result to more bonus rewards.