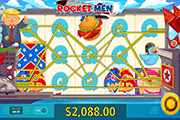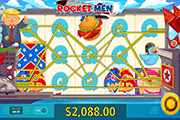 Rocket Men Online Slot: Don and Kim's Ridiculous Rocket Battles Bring Instant Wins and Free-Spins!
Rocket Men online slot by Red Tiger presents a satire on how U.S. President Donald Trump is dealing with the threats of nuclear attack posed by North Korea's Kim Jun Un. In a 3 x5 grid built with 20-paylines, a parody of reel elements such as a Woman's Tattooed Derriere, a Dynamite Burger, and a Sitting Duck in Army Helmet land as top paying symbols.
Through this game though, Rocket Men slot players benefit from the serious and not-so-serious actions taken by the two national leaders. Don's nonchalant golf play and Kim's rocket tests make important changes on spin outcomes. When Don and Kim meets, an exchange of missiles transpires, depicting a fantasy aftermath advantageous to slot players. Here, the exploding Rockets coming from both sides, bring either cash prizes or an unlimited number of Wild-boosted free-spins.

Rocket Men Online Slot: Wild Symbols
A pair of Red Blue Rockets land as images of the regular Wild Symbol. As a single wild card, it boosts chances of hitting payline matches by way of substitutions. The Rockets Wild is also the highest paying element; awarding 40, 240, or 500 credits on 3, 4, or 5 Wilds that land as winning combis.
Free Games Roving Wilds -In the bonus round the Rocket images separate. The Blue Rocket is Don's Wild, while the Red Rocket is Kim's. On every bonus spin, a Don or a Kim Rocket Wild will transfer to the next reel, one position at a time, in order to reach the Enemy Target.
Rocket Men Online Slot: Bonus Features
A bonus event may transpire on any spin to bring guaranteed wins, Wilds, or free-spins. The rewards depend on who lands as dominant figure in the grid.
Don's Driving Range – On any spin, Don may decide to spend time in his private driving range by landing on Reel 1. His animation appears atop the tower on the left side of the screen; driving golf balls that land on the grid. The golf balls will smash and remove several symbols from the reels, allowing fresh icons from above to drop into open spaces. Depending on Don's mood, the golf driving activity could carry on for a spell or not at all.
Kim's Little Game – Kim's actions are more serious once his image lands on Reel 5. His cartoon animation will launch missiles in massive numbers. Any symbol on which a rocket lands, turns into a Wild.
Don vs. Kim – Now if Reel 1 returns with a Don image via the same spin that produces a Kim totem in Reel 5, then the Rocket Men will have a showdown. Whilst positioned on their respective tower, the two caricatures will exchange rockets in order to gain domination over the reels.
If Kim wins the battle, he will present players with rockets to click on to reveal a bonus prize. Should Don emerge as victor, then it is party time with lots of bare buttocks gracing the event. Don will then choose one to reveal a player's bonus reward.
In the event a missile fails to reach the reels and lands on water, the mini-bonus game ends. The two Rocket Men will advance their nuclear battle to the Free-Spins Bonus Round.
Rocket Men Online Slot: Free Games
The free round carries on with an unspecified number of free-spins, as the bout ends in conjunction with Don's or Kim's defeat. While in the free games, an exchange of Red and Blue Rocket Wilds in random numbers, transpires.
The Blue Rocket Wilds will be coming from Don, while the Red Rocket Wilds will come from Kim. Every Wild released will then act as Roving Wild, transferring to the next reel on every spin until one finally reaches its corresponding target.
A Progress Bar for each Rocket Man displays the health of the two contenders. A Red or Blue Rocket that succeeds on hitting its target will bring down a related health level. The Free-Spins Bonus Round culminates once Don's or Kim's Progress Bar drops to zero health-level.