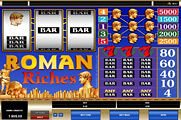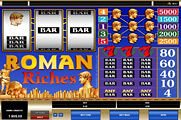 Roman Riches is a classic slot machine that offers players the same experience that they used to enjoy at local bars and pubs. The game mixes that experience with a highly rewarding theme as the game is inspired by the Great Roman Empire. The Roman Empire was known for its riches and fortunes and this is why the game is entitled Roman Riches, as players will have their chance of grabbing their own share of the fortunes by spinning the reels of the game.
The theme of the game is apparent in one of the symbols that appear on the reels, the Roman Head Statue as well as the interface of the game itself. This is because under the reels, players will see the logo of the game "Roman Riches" written in red, and they will also see these riches in the form of coins and golden statues behind the logo of the game. This shows players how rewarding the game can be. The game can be enjoyed here for free so players can test the game before going to Microgaming online casinos to try it with real cash.

As was said, it is a classic game as it has three spinning reels with five different paylines. Even the symbols that spin on these reels are inspired by classic slots, in addition to a Roman themed symbol. These symbols include the usual black and white bar symbols, 1 bar, 2 bar and 3 bar, red sevens and the Roman Head Statue. These reels and symbols are found on the left side of the screen while the paytable of the game is found on the opposite side. The paytable shows players the different payouts that the game can offer as well as the combo of symbols that they will have to get in order to claim such rewards. The highest payout, the jackpot award of the game, is paid to players who get three Roman Head Statues on one of the paylines of the game. Players who place 5 coins will be able to claim the grand prize of 5000 coins. As for players who place 1, 2, 3 or 4 coins and get three Statue Heads on a payline, they will earn 1000, 1500, 2000 and 2500 coins respectively.
Speaking of coins, players will be able to determine their stakes before they start spinning the reels at the bottom of the game's screen. There are two betting options that can change the value of the stake. The first option is the coin's value. The available values are 0.25, 0.50, 1, 2 and 5. The other option is the number of lines that players want to activate. Players can place bets on 1, 2, 3, 4 or all 5 lines. All of this creates the game's betting range, which starts at 0.25 and ends at 25 credits per spin. Players can place the highest bet possible by clicking on Max Bet.