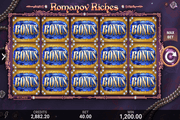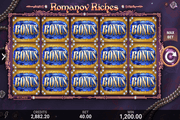 Romanov Riches Online Slot: Matching Stacked Symbols Trigger Respin/s, and Possibly 3 Bonus Wheel/s
Romanov Riches is a 15-payline online slot that plays on a 3×5 grid enriched with full-reel Stacked Symbols. Any reel element may emerge as Stacked Symbols in one or more reels. Aside from boosting chances of hitting multiple winning combinations via stacks of alike images, the stacked configurations can also trigger one or more Respins.
A minimum of two (2) full-reel stacks of identical icons, triggers a Respin. If a Respin yields more matching stacks of icons, frèe turns will continue to transpire. The feature may even fill the entire grid with a single type of icon by completing a full set of 5 matching Stacked Symbols. Basically, Stacked Bonus Symbols work the same way. Their greater significance is that 3 or more stacks of bonus symbols, can unlock up to 3 Bonus Wheels.
Developed by Fortune Factories Studios for the Microgaming platform, this online slot also boosts winning chances through Wild Symbols. Unlike Bonus Symbols, there is no telling if Stacked Wild Symbols may also appear. Generally, Wild Symbols land on reels as single-cell images of a Snowflake.


Romanov Riches Online Slot: Wild Symbol
Snowflake Wild tiles may emerge in any reel. Wild Symbols lengthen or complete matched combinations of another icon, only if they take positions in the same paying line. Yet if the Snowflake Wild itself organises into a winning arrangement, a Wild combo yields the highest range of payouts. A payline win composed of 3, 4 or 5 Snowflake Wilds, respectively awards a cash prize equal to 2.5x, 10x or 50x the Total Bet.
Romanov Riches online Slot: Respin Feature
A pair of identical Stacked Symbols, fully covering Reels 1 and 2, sets off this game's Respin Feature. The free turn is only for the non-stacked images in Reels 3 to 5, since the triggering pair of Stacked Symbols lock in place. Should the Respin produce the same type of full-reel Stacked Symbols in Reel 3, the identical icons in all 3 reels will transform into a huge 3×3 block of image. After which, a second Respin rolls images currently displayed by Reels 4 and 5.
Hope for a matching full-reel Stacked Symbols to land on Reel 4, as another Respin will launch; greatly boosting guaranteed rewards earned on one-of-a-kind Stacked Symbols. Moreso, if a final Respin fills the entire grid with 5 full Stacked Symbols of a single type. The stacked images will convert into a colossal 5×5 image of the winning icon.
The Respin Feature mechanics also apply to full Stacked Bonus Symbols landing on Reels 1 and 2.
Romanov Riches Online Slot: Bonus Wheels
Cash prizes awarded on multiple combos of Stacked Bonus Symbols are determined via one or more Bonus Wheels. The number of wheels unlocked depends on the number of full-reel Stacked Symbols in view, to which:
3 Full Stacks of Bonus Symbols convert into a 3×3 image of a Bonus Wheel. One Bonus Wheel will then unlock to produce a Total Bet Multiplier. The equivalent outcome represents the final bonus prize.
4 Full Stacks of Bonus Symbols turn into a 4×4 image of 2 Bonus Wheels. Both Bonus Wheels award a Total Bet Multiplier. The resulting bonus prize is the aggregate value of the cash prizes generated by the 2 Bonus Wheels.
5 Full Stacks of Bonus Symbols fill the entire grid with a colossal 5×5 image of 3 Bonus Wheels. The first 2 Bonus Wheels produce cash rewards, while the 3rd Bonus Wheel generates a Total Bonus Win Multiplier. This denotes that the sum of all cash prizes yielded by Bonus Wheels 1 and 2 will increase via the Multiplier Value generated by Bonus Wheel 3.