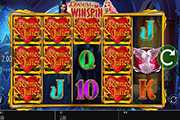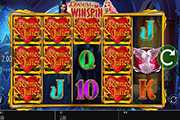 Romeo and Juliet Online Slot: Offers Lots of Guaranteed-Win Bonus Features!
Romeo and Juliet online slot presents an inspiring 20-payline, icon-matching game that uses a romantic theme in presenting an array of bonus features. Between the "Lover's Super Spin" and Bonus Game proper, six (6) amazing special events may transpire. In addition to multiple Bonus Features, this game can also provide entry to Blueprint Gaming's Progressive Jackpot King Game.
The "Lover Super Spin" activates at random to award a Bonus Feature via Heart Picks. The Bonus Game on the other hand, captioned as "Pick Your Poison", sets off by way of 3 Bonus Symbols. Bonus Choices though are all rewarding, despite the connotation of the title. Any Bottle of Poison presented as Pick choices will reveal bonus features similar to those awarded by the "Lover's Super Spin" segment.


Romeo and Juliet Online Slot: Wild Symbols
Leander Games, in collaboration with Blueprint Gaming set the Images of Shakespeare's ill-fated lovers as the Regular Lover's Wild Symbol. Landing Romeo and Juliet Wild images can create greater impact, especially if 2, 3, 4, or 5 Wilds land as win-line components. At the same time, any Wild in view can also align as winning elements of a regular-symbol payline win.
A one-of-a-kind grouping of 2, 3, 4, or 5 of the Lover's Wild in a win line, correspondingly awards 2, 100, 400, or 500 coin credits. A winning combination that includes a Wild as component, garners payouts based on the Paytable Values of the principal icon.
Romeo and Juliet Online Slot: "Lover's Super Spin" or "Pick Your Poison" Bonus Rewards
One of three (3) Heart or three (3) Bottle of Poison images will reveal a secret bonus reward, which could be any of the following:
Lover's Spin Win – Multiple Lover's Wilds are certain to appear as outcomes. Such enhancements make it possible for players to rake in Big Wins.
Romeo Wilds – This bonus feature adds a number of solo Romeo Wild icons to all reels that will likely result to multiple payline wins.
Juliet Wilds game play is similar to the Romeo Wilds bonus feature
Romeo Mystery Win The segment presents three (3) Shield holding either a Featured Symbol or a Collect Prompt. The Featured Symbol will of course, reveal a cash prize. The Collect prompt, on the other hand, immediately ends the Picking activity..
Juliet's Multi-Level Wheel of Fortune awards Total Bet Multipliers in 4 stages. If a player succeeds in reaching the 4th or the final level, a Big Value Multiplier will increase all Bonus Rewards collected from previous Wheel Levels.
Landing on Multipliers on every wheel-spin will continuously increase the earned Bonus Wins. An Arrow Symbol will allow players to spin the higher wheel levels. Striking a Heart icon, is a boon as it awards a Multiplier that will increase current Bonus Winnings. The much dreaded Collect prompt, will of course, cut short any chances of hitting more Bonus Wheel Wins.
Lover's Free Spins is a bonus round that runs on a Romeo Grid and a Juliet Grid. Both sets of reels spin for five (5) consecutive bonus turns, but will land different outcomes. During each free run, Heart Symbols may appear in one or both reels. At the end of a spin, all Heart Symbols not present in the other grid will then replicate in order to synchronize their places in both grids. Once all Heart Symbols have take up the same positions in both grids, they will then reveal a single type of regular-paying symbol.