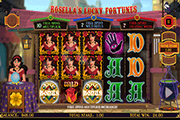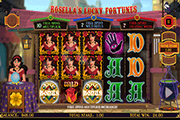 Rosella's Lucky Fortunes : Gypsy Conjurer Modifies Reels to Bring Awesome Big Wins!
Rosella's Lucky Fortunes online slot by Core Gaming/OpenBet is a 20-payline content hosted by a Gypsy Conjurer. At random occasions, and during an ongoing spin, Rosella the featured conjurer, summons reel elements such as one-of-a-kind images, Colossal Symbols, Wild Reels or a 7x-Paying Wild. They take effect as reel modifiers that bring awesome Big Wins with certainty!
Even more amazing is that they also happen in any one of three (3) types of Free Games. Notwithstanding that each Free Round already has a specific win-boosting element to offer as bonus feature. Pay attention to the Amulet Bonus Symbols, as their occurrence as winning combination triggers a corresponding bonus round.
Rosella's Lucky Fortunes may also be influenced by a Lucky Charm that will play as second-highest- paying totem. At the onset, players will have to select a Good Luck Charm from an array comprising a Clover, a Horseshoe, and the Number 7. The chosen Lucky Symbol, will then award credits of 20, 80, or 300 when landing as a 3, 4, or 5-symbol payline win.


Rosella is of course the highest paying icon. Three, four, or five of her image, landing appropriately as contents of a paying line, award 40, 100, or 500 credits. The Wild Symbol shares the same Paytable Values as Rosella's icons; but only if the substitute icon forms a winning arrangement of its own. Still, the chances of winning on any symbol is high. In this game, icons may land as stacked images or line up as 3-of-a-kind images in a single row.
Rosella's Lucky Fortunes Online Slot: Random Reel Modifiers
Once in a while, Rosella will take it upon herself to ensure that a spin will produce a spellbinding win. Using her skills at summoning amiable spirits, any one of the following will transpire to give players greater winning advantage:
Big Win, even Super or Mega Win may happen as outcome of an ongoing spin. Rosella's spell will make certain that one of the top paying symbols in view will line up as 5-of-a-kind contents of a payline.
5-of-a-Kind Win – Here, the guaranteed 5-of-a-Kind Win will involve any regular-paying icon, including the low-win A, K, Q, J and 10 Symbols.
Colossal Wilds – Wilds are great win-boosting elements. More so if they appear as a Colossal Wild occupying 3 adjacent reels. Nine (9) Wild Symbols clustered as a 3 x 3 Block of substitute icons not only have great potential to complete multiple payline wins. If the Colossal Wild lands on the Reel 1, it automatically covers Reels 2 and 3, and therefore certain to bring sensational payouts on the related spin.
Lucky Wilds or Wild Reel – One or more, or even Stacks of Wild Symbols boost chances of hitting payline wins. The Lucky Wild comes with a 7x Win-Multiplier.
Rosella's Lucky Fortunes Online Slot: Bonus Symbols
Four types of Bonus Symbols appear as outcomes of a spin. They come in the form of color-coded Gold Amulets that land on specific reels.
The Gold Amulet with Multicolor Gem – is the primary Bonus Game trigger element. It comes into view only in Reels 1 and 3. When occurring in those reels and at the same time form a winning combination with a Green, Blue or Red Amulet in Reel 5, the arrangement sets off a corresponding bonus round.
In the event the two Amulet Symbols in Reels 1 and 3 fail to hit a Reel 5 match, the event will stir a Magpie hovering above the grid. Rosella's magical bird will arbitrarily choose a Free-Spin Mode on which to drop an additional Bonus Spin Reward.
The Green Amulet is one of three Bonus Symbols that must land on Reel 5 in order to complete a winning Bonus Combo. Ordinarily, a round of Green Amulet Free Games awards 7 Free-Spins optimized by a Progressive Win-Multiplier.
The Blue Amulet takes effect in the same way. When its occurrence coincides with 2 Gold Amulets, the event awards a minimum of 6 Free-Spins that produce Wild Reels.
The Red Amulet activates a minimum of 5 free-spins guaranteed to bring on Colossal Wild Symbols, instead of single-cell Wild components.
All sets of Bonus Spin Rewards increase, when the related Free-Spins Meter has been selected to receive the Magpie Extra-Spin addition.