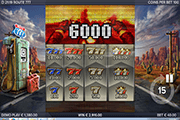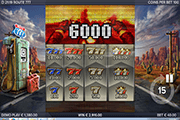 Route 777 Online Slot: 5 Respins and Free-Spins with Fortune Wheel Bonus Feature
Route 777 online slot by Elk Studios takes online casino players on a reel-spinning adventure on a fictional desert highway called Route 777. Vegas-style elements may land as 3-symbol matches on any of 17 available win-lines in a 3 x 3 grid. The high-paying 7 icons come in four different versions: in Blue, Red, Silver and Silver with Crown. Already possessing notable payouts as regular base game symbols, the rewards are higher when matching 7 icons are hit via the Free-Spins Fortune Wheel feature.
The base game reels though are not without their own reward-boosting elements. Any paid spin may trigger the Overtake Respins bonus. The latter gives Route 777 players 5 free opportunities to complete 2-symbol matches occurring in the first and second reels. Although this game has no Wild Symbol to offer as substitute element, the Overtake Respins more than compensate for the lack of it.


Route 777 Online Slot : Overtake Respins Feature
This bonus feature sets off, If after a paid spin, Reels 1 and 2 return with pairs of identical images; one in each row. Five consecutive respins follow, although not in the conventional manner.
The pairs of identical images lock in place but gradually shifts down on every turn, allowing more identical pairs to come into view. Only the third reel will respin normally, to possibly return with an icon that will complete any of the identical pairs currently positioned in the first and second reels.
Another great thing about this feature is that the Free Games activate immediately, if 3 Skull images land during the process. The Overtake Respins, will then resume, once the Free-Spins Round ends.
Route 777 Free-Spins Round with Fortune Wheel Feature
Once activated by 3 Skull totems, participating slot players receive 5 free-spins as initial reward. When 2 Skull images appear anywhere across the grid, a random number of additional bonus-spins ranging from 5 to 15, will extend the free bout.
Yet if a complete set of 3 Skull icons occurs as bonus-spin outcomes, another bonus segment called Fortune Wheel Bonus Game will transpire.
Fortune Wheel Bonus Game A different game frame will immediately come into view; displaying only the four types of 7 Symbols. The first, second and third rows display single 7s, double 7s and triple 7s, respectively. However, the number and type of 7 Symbols as well as the corresponding bonus wins, will be decided by way of Fortune Wheel spins.
The Fortune Wheel likewise contains wedges displaying each type of 7 icon. The number of times that a spin lands on each particular type, lights up the corresponding number of 7 variant. Fortune Wheel spins are configured to go on for as long as each turn lands on a 7. This gives players a chance to hit higher or even the highest paying triple-7 combinations for all types.
However, the Fortune Wheel Bonus Feature ends, if a spin lands on a wedge with a STOP prompt; or once the cumulative rewards earned by a player, reached the game's maximum rewards of 400,000 coins, The prizes reflected by the 7 combos hit via the Fortune Wheel, will then be aggregated and awarded as additional bonus prize of the Free-Spins Bonus Round.