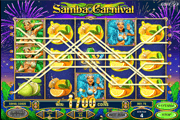 Samba Carnival Online Slot – A Rewarding and Festive Real Money Slot Recreation
Samba Carnival is a festive and colourful online casino slot entertainment from PlayNGo. This 5-reel, 15-payline game has great potential as a rewarding slot choice, as it pays for matched symbol groupings regardless of origination.
Whereas, other slot games pay only for combinations originating from the first or the leftmost reel, this PlayNGo offering makes a difference as it recognises three or more alike symbols as payline wins for as long the images appear in adjacent reels. This attribute could prove to be lucrative, when appearing in combination with the Wild Symbol that comes with random multiplier factors of 2x up to 5x.
Images of voluptuous Samba Carnival Dancers represent the high paying symbols, to depict their role as revelry rousers for this samba dance festival-themed PlayNGo online slot. The Samba Dancer in Pink pays the highest at 2,500 coins for every 5-of-a-kind match. The Samba Dancer in Blue pays 1,000 while the one in Green pays 500 also for 5 consecutively appearing like images. Any one of which may appear in stacked formation in one or more reels.
Fruit symbols such as a Pineapple, Watermelon, Orange and Lemon complete the set of Samba Carnival reel icons. Although the Fruit Symbols have lower payout equivalents, they tend to appear more frequently and in multiples, to likely form matched groupings that result to Big Wins!
Samba Carnival Online Slot Wild Symbol with Wild Win Multiplier
A pair of Maracas represents the game's Wild Symbol, usable as substitute icons for regular symbols. Moreover, the Maracas Wild always emerges with a random Wild Win Multiplier of 2x, 3x, 4x, or 5x that apply to all coin rewards received from payline wins formed via Wild substitution actions. The coin rewards are then subsequently multiplied by the bet value (coin value x number of coins) staked per payline.
Samba Carnival Online Slot Bongo Bonus Symbol
The Bongo Bonus icon represents the conventional Scatter Symbol. As such, it could appear anywhere across the reels. A trio of Bongo Bonus Symbols emerging simultaneously as spin outcomes award Scatter Pays of up to 150x the total bet staked per spin. Players have the option to choose any one of the three Bongo Bonus icons; but they have to make a quick pick of the Bongo Bonus icon that could possibly have the highest Mystery Reward. Otherwise, the game will arbitrarily select the Bongo Bonus Mystery Reward.
Samba Carnival Online Slot Betting Options
This PlayNGo online slot offers low-risk real money online gambling recreation, as the betting options comprise coin values ranging from 0.01 to 0.25. Players can increase the bet value per payline by placing additional coins of up to five (5) as stake per line. The amount staked per payline is vital since payline wins are based on the bet value per line.
The total bet per spin is likewise important, as this is the value used in determining the amount of Bongo Bonus Reward. The total bet per spin constitutes the bet value per payline multiplied by the number of paylines activated, anywhere from 1 to 15. The total amount of bet per spin could be as low as 0.01 (0.01 x 1 coin x 1 payline) or could be as high 18.75 (0.25 x 5 coins x 15 paylines.)
Awesome Online Slot with Wild Win Multipliers!
Samba Carnival online slot from PlayNGo furnishes low risk online gambling recreation but with lots of potential for hitting big wins with its pay-boosting Wild Win Multiplier of 2x up to 5x!