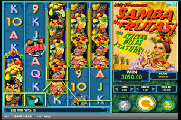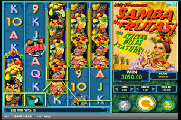 Samba De Frutas Festive and Energetic 100 Paylines Video Slot by IGT
Samba de Frutas is a delightful conglomeration of sight, sound and pay-boosting elements presented in an 8-row by 5-column video slot. Samba dancers, luscious tropical fruits, upbeat background Brazilian dance music and a hundred paylines in all, spells nothing but immersive slot entertainment!
The game offers 100 paylines as betting options, but adjustable into 1, 8, 25, 50, and 75 paylines per spin. Coin values are between 1.00 and 100.00, which mean bet value per spins can be as low as 1.00, 8.00, 25.00, 75.00, and 100.00 for the lowest range of betting options. Max Bet for all 100 paylines at max coin value of 100.00 is 10,000.

Actually betting high or low does not make much difference because the game elements are encouragingly win-friendly. High icons for one, such as the lively male and female Samba Dancers and the colourful Toucans, come as large-sized icons; occupying as many as three (3) tiles in each reel.
A Closer Look at the Samba de Frutas Wild
The Samba de Frutas Wild Symbol outdoes that because it takes up an entire reel column; meaning all eight (8) tiles in a single column emerges as Wild Symbols. What is even greater is that it is possible to land on a spin outcome with more than one full-reel Stacked Wilds. Do not expect to see a stack of fruit icons though, because the Stacked Wilds are part of the Samba Female Dancer's Headdress. In addition to the full-reel appearance, a portion of the Fruit Headdress Stacked Wilds can also appear as part of a spin outcome.
One could just imagine the possibilities for multiple payline matches if a spin returns with more than one full-reel Stacked Wilds, partial Stacked Wilds, and Large High Paying Symbols. Even greater still is that such an occurrence could happen in the Free Spins Bonus Game.
Moreover, Samba de Frutas Stacked Wilds are capable of forming payline combos. Get any five Wilds, including a portion of the Headdress Fruit Stacked Wild Symbols in an active payline, and one can win 1,000 coins as equivalent payout.
Dance to the Samba Beat in the Samba de Frutas Free-Spins Bonus Game
A pair of Maracas represents the Bonus Game Symbol. Three (3) of those symbols appearing all at once in Reels 2, 3, and 4 set off five (5) Free Spins as bonus round.
Even at the onset and before the free spins launch, a Samba de Frutas bonus player will instantly have a reason to celebrate. An instant win amounting to twice the amount of one's total bet will be awarded to the bonus player. Those are in addition to whatever winnings a Samba de Frutas bonus player collects from the five (5) feature-rich, bet-free spins.
This win-friendly IGT slot has more to offer, because the Bonus Game Symbol remains active during the free bout. This denotes that if another set of three (3) Bonus Game symbols appear as outcomes of a free spin, another round of Bonus Game will launch. Denoting further that the game will bestow another instant win of 2x the amount of bet staked per spin. Based on the Game Info, Samba de Frutas could award up to as much as 250x the bet amount, in the event that a bonus game retriggers continuously.