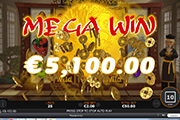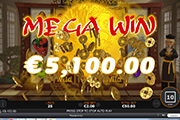 Satsumo's Revenge Online Slot: Rake in Wild-Driven Wins via Additional, Expanding and Sticky Wilds!
Satsumo's Revenge online slot is a 25-payline Playtech content in which most big wins are Wild-driven. This game has Wilds that flourish across the grid by way of random additional Wilds, Expanded Wilds or Sticky Wilds. The Sensei standing outside the slot screen throws Shurikens onto reels. Those are casual instances when the outcomes of an ongoing spin receive supplementary Wild Symbols. Some Shurikens may take positions in single columns, creating one or more Wild Reels. On a whim, the Sensei places Wilds that expand as a Wild Reel with a 3x Wild-Win Multiplier.
Satsumo's Revenge features a Sumo Wrestler as highest paying reel element. Three, four, or five of the Wrestler image award 40, 200, or 1000 credits multiplied by the Line Bet. The rest of the icons are Fruit images depicting staunch martial arts practitioners. Matched groupings created by the Fruit Fighters on any payline, correspondingly garner coin credits ranging between 10 and 300 times the Line Bet. The most aggressive are the Plum Fighters, as when two of those icons meet after a spin, a unique Fighting Match transpires via the Free-Spins Bonus Round.

Satsumo's Revenge Online Slot: Wild Symbol and Shuriken Wilds
A Dragon image lands on Reels as Wild Symbol. The Dragon Wild may emerge as single cell icons or as a full-reel Dragon Wild image. Wilds here merely pose as alternative win-completing elements, not having the capability to form winning combinations of their own.
Nonetheless, Wild icons tend to appear abundantly; not only by landing as after-spin displays but also as Shuriken-generated Wilds.
Shuriken Wilds are Shurikens that land on reels during the Sensei's Shuriken-throwing bouts. They subsequently transform into Dragon Wilds once they find a spot on which to land. In some instances, some Shuriken Wilds expand, transforming one up to three columns into Dragon Wild Reels.
Satsumo's Revenge Online Slot: Free Games
Remember the Aggressive Plum Fighters? Two of those icons may appear simultaneously as outcomes of a spin. Distinguished by Red or Blue head bands, the Red-banded Plum lands on Reel 1, while the Blue-banded one takes position in Reel 5. When the two elements meet via a single spin, the Fighting Free Games activate.
Fighting Free Games – Players have to select a Fighter, as the duration and outcome of the free round depends on the result of the showdown. Each fighter has five (5) lives to use in defeating each other in a game of Janken, or "Rock, Paper, Scissors." A Fighter must win with each array of Rock, Paper, Scissors presented, in order to win a free game.
Choosing a winning object awards one (1) Free-Spins plus one (!) Sticky Wild. The Sticky Wild remains locked in position during the ongoing fight. If the result is a Draw, with both Fighters using the same object as Janken weapon, one (1) Free-Spin will still be awarded. The grid picks off from the last outcome, still displaying any Sticky Wild won previously.
The Fighting Free Games end, once a Plum Fighter uses up all lives, regardless of who emerges as Champion. Still, if a player's Chosen fighter emerges as victor, one final spin will be awarded. That last spin has great potential for bringing Big Wins, since the reels may already be studded with multiple Sticky Wilds.