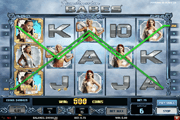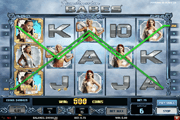 Scandinavian Babes : A Risqué-Themed Video Slot by PlaynGo
Scandinavian Babes is a five-reel, fifteen-payline provocative slot creation by PlaynGo. Obviously, this risqué-themed real-money gambling recreation was conceptualized with the male audience in mind. Watch and play as alluring Scandinavian showgirls execute seductive poses, making the game even more sizzling than it already is.
Four coquettish hot ladies represent the game's high paying symbols, one of which pays up to 2,500 coins for every 5-of-a-kind symbols. Take notice of the hot Scandinavian babe inside a gilded frame, as her icon symbolizes the Wild card that can stand-in as replacement for other regular symbols.

Scandinavian Babes Stacked Wild Symbols
The Gilded Scandinavian Babe Wild Symbol is one of the exciting features of this game. It could appear singly or stacked on reels 1 and 5. A single Wild is already a boon since the icon can be used as substitute for regular symbols in order to complete a payline win.Start counting rewards once a spin returns with three Gilded Scandinavian Babe Wilds appearing as a Stacked Wild Symbol.
Hold on tight, because the Gilded Scandinavian Babe Stacked Wild randomly appears simultaneously on reels one (1) and five (5). Such an occurrence not only heightens the possibility of reaping multiple rewards from multiple payline wins, the event also triggers the launch of the Free Spin Games.
The Scandinavian Babes Free Spin Round
This PlaynGo slot game awards 15 bet-free spins in the special round activated by the Stacked Wilds twosome. The gaming experience could go from sizzling hot to blazing levels, as the pair of Stacked Wilds remains glued to their first and fifth reel spot during the free spins.
Multiple payline wins are likely to occur, although the game pays for only one set of matched symbols in every payline. It automatically chooses the set with the highest payout equivalent, in the event that more than one matched combo occurs on a single payline.
The Scandinavian Babes Bonus Game
Every now and then, a Scandinavian Bonus icon appears across the reels. Landing on a spin outcome that has three of those, sets off the Scandinavian Babes Bonus Game. The free game showcases three lovely ladies representing hidden bonus rewards; one of which is for a player's taking.
Hover the mouse on each symbol, and watch each showgirl gyrate invitingly. Choosing by clicking on one reveals the mystery coin prize, which the Scandinavian Babes Bonus Game adds as extra pay to a player's current winnings. A bonus player could get luckier since the paytable info states that a bonus cash reward equivalent to 150x the total bet value, could be won as extra pay.