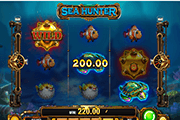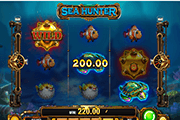 Sea Hunter Online Slot: Modern 3-Reel Slot with Unique Cannon Power-Up Features
Sea Hunter online slot by PlayNGo furnishes a modern 3-reel, 5-payline icon matching game with 4 unique power up elements. Slot players explore a 3 x 3 grid containing varying images of marine species and hunt for identical icons aligned in any of 3 horizontal, or of 2 diagonal paying lines. Each 3-symbol match is a win, and is significant not only for its corollary payout. The Cannon Power-Up features activate when spins produce wins in succession.
The Sea Hunter power up tools make their way to the reels by way of Cannon blasts. Take notice of the Cannon images moving up and down on each side of the grid. Those Cannons charge up and then release 4 different types of firepower on a per level basis. The impact of the power up feature will be tested by way of a cost-free respin. If the latter results to a second win, the first level Cannon activates.
The next paid spin must also produce a win in order to activate another respin. In the same way, a win must be struck via the second respin in order to keep the respins coming.


If the spin-respin wins continue uninterruptedly, the constant charges will likely activate all other Cannon Power Ups.
Sea Hunter Online Slot: Wild Symbol
An image of the Explosive represents the Wild Symbol. It takes position in any reel or row, which makes it capable of forming a 3-symbol payline win. Combinations completed by way of wild representation award payouts based on the Paytable Values of the winning icon. Yet if the win constitutes purely of Wilds, the arrangement garners as much as 125x the Line Bet.
Aim to set off the second and third level Cannon Power-ups, as the related firepower bring Sticky Wilds and Additional Wilds, respectively.
Sea Hunter Online Slot: Cannon Power Up Features
In a series of uninterrupted wins carried out via a succession of paid spin + respin occurrences, four types of Cannon firepower could go off in succession. Remember, the first two wins must be followed by another in order to increase chances of activating higher levels of Cannon firepower. Otherwise, a non-winning turn will cause the charge meter to reset at zero level.
Level 1 Cannon Growth Gun – activates on the first set of 2 consecutive win-spins. The firepower released targets a random symbol and then change the selected image into a higher paying Sea Hunter element. If the modification results to a win, a bet-free respin launches.
Level 2 Cannon Sticky Shot – This firepower sets off after 4 consecutive win spins. A Sticky Shot produces a blast of identical icons that will stay locked in place in the ensuing respin. If the latter results to a new win, another Cannon Power up feature activates.
Level 3 Cannon Wild Warhead requires only 5 consecutive win-spins. Once the Wild Warhead fires and explodes, 1 up to 3 random positions will display Wild Symbols. The reels will once again launch a respin, which could strike a 6th consecutive win.
Level 4 Canon Multiply Mortars has the most resounding impact as the firepower can bring a win-multiplier that could go as high as x15. Even greater still is that the free turn awarded in connection with the Level 4 activation is guaranteed to result to a win.
Firing up all Cannon Power-Up features in succession will bring the Sea Hunter online slot back to the normal mode, until a new series of win spins occurs to activate the feature anew.