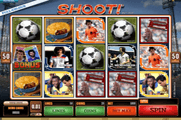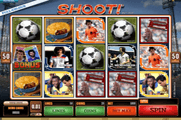 Shoot Free Slots Review
Shoot!, the newest football game from Microgaming has all of the greatest footballers of all time. This is a five reel slot game, so you're sure to see a few famous faces on there, and even if you're not a big fan, there are surely still some that you've heard of. Most of the players on here are legends, from as late as the 1960's, with some of the current greats on there as well.
There are lots of ways to win on this game. Sure, there isn't a multiplier or progressive jackpot, but there is another jackpot, free spins, and scatter symbols. Even better than that, there are an unheard of FIFTY pay lines! That increases your chances of winning to an extraordinary level when compared to a 3 reel, 5 pay line slot game. You'll hear more bells and whistles from winning than nearly any other slot game available! The best part about games like this is that you don't even really need to know how to read the pay chart to know that you're winning.


This game also has not one, but 2 different bonus games. It starts off with the Trade 'Em game, and after you select your four footballers you get the opportunity to play either the Magazine bonus game or the Free Spins game. While free spins are great to win and use and may seem like the better deal, the Magazine bonus give you a chance to win a flat amount, just by selecting a player! There's no easier way to win money in a slots game! For more details about each bonus round and how to trigger it, as well as information about the other payouts, special icons and features that the slot machine has, players can open the payouts table of the game. They can open it by simply clicking on the View Pays button of the game.
So if you are a soccer fan and you enjoy watching the sport, then get ready for a nostalgic experience that is inspired by all of the legends of the sport like Pele and Schneider among others through this Microgaming powered slot machine that is conveniently entitled Shoot!. The game does not only offer an immersive and a highly engaging gaming ride, as it is also packed with its own set of special icons, features as well as regular line pays when players match the symbols.