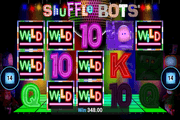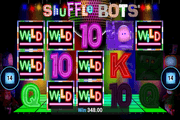 Shuffle Bots Online Slot: Unique Shuffling Reels Free-Spins Deliver Awesome Bonus Winnings!
Shuffle Bots online slot by Realistic Games awards bonuses by way of a game-changing Shuffling Reels Free-Spins Round. Instead of changing a current set of reel display with one sweeping motion, icons shift down, or up one position at a time; until such actions complete one full turn. During each position-shift, payouts are tabulated on any 1-one-a-kind icons aligning appropriately in any of 20 paylines. Reels then continue to shuffle and deliver payline winnings gradually, until all free turns have been played.
Shuffle Bots players though, should know beforehand that it may take some time before they get to hit the Bonus combo that will set off the unique free feature. Nonetheless, this game comes around with random base game features that allow players to win big, even via paid spins; or to increase chances of setting off the Shuffling Reels Free Round. The Bonus Wilds feature places 2 or more Wild Symbols to the grid before reels settle with a final display. The Bonus Scatter, on the other hand, adds a Bonus Symbol to heighten chances of completing a Bonus combo.
Get to know the Shuffle Bots and their individual range of pays. Once the game advances to a Shuffling Reels Free Round, participating players will be asked to select a Shuffle Bot as featured bonus game symbol. The cute little Pink Bot awards the highest payout. Three, four or five Pink Bots completing a payline win, respectively draws out 20x, 100x or 200x the Line Bet as cash reward.


Shuffle Bots Online Slot: Wild Symbol and Bonus Wilds Feature
Colourful WILD emblems land on random positions as wild cards. They can combine with sets of alike elements in the same payline and complete or extend a winning arrangement. If at the same time, 3, 4 or 5 WILD icons organise as winning combination, the payout awarded is similar to those awarded by the highest-paying Jackbot icon.
A set of 3, 4 or 5 Jackbot tiles aligning as winning combo in any payline, correspondingly garners a cash prize equal to 50x, 200x or 250x the coin value staked as Line Bet.
Chances of raking in winnings via Wild participation, get a boost from a random base game feature caĺled °Bonus Wilds."
Bonus Wilds – If after pressing the spin button, the reels temporarily suspend a spin action, it denotes that a Bonus Wilds Event is about to transpire. After the brief respite, a different set of reels will come into view; whilst introducing a Cocktail Bot to carry out the Bonus Wild feature. The Cocktail Bot will then place 2 WILDs at the least, up to as many as its limited engagement will allow.
This bonus event though, transpires only during base game spins.
Shuffle Bots Online Slot: Bonus Scatter Feature
Equally colourful as the WILD icons are the BONUS tokens. Three or four BONUS Symbols, simultaneously in view anywhere on the disco floor, set off 5 or 10 Free-Spins, respectively. Hitting five (5) BONUS tokens as single-spin outcome is a windfall. The 5-symbol BONUS combo instantly awards the maximum prize of 5000x the Line Bet.
Still, capturing at least three (3) Bonus icons as paid spin outcomes is not an easy feat. Realistic Games therefore configured this game with a Bonus Scatter feature designed to add 1 extra Bonus Symbol on random occasions. Pay attention to the huge Disco Ball hanging atop the middle reel. There will be arbitrary instances when the Disco Ball transforms into a large Bonus Symbol.
That way, the moment a paid spin yields 2 or more Bonus icons, the large, extra-size token can complete or lengthen a Shuffling Reels Free-Spins trigger-combo.
This feature though transpires only in base games, as Bonus Tokens will no longer participate as elements of a bonus game.
Shuffle Bots : Shuffling Reels Free-Spins
Free rounds commence with the presentation of all five (5) Shuffle Bot icons and their respective range of payouts for that particular bonus bout.
Participating players will then select a Shuffle Bot that will start off the bonus round with his dance moves. During the Shuffle Bot's solo act, it will enhance the reels with additional icons of its image. The purpose of which, is to increase chances of hitting as many winning combos composed by its icon, during the unique Shuffling Reels round.
Shuffling Reels
Running on a different disco-themed grid, 5 or 10 Free-Spins will gradually roll out new sets of symbols. Instead of replacing symbols with one quick turn, the reels shuffle by moving each symbol up or down by one position, until the gradual shifts complete a full turn.
Now if a shuffle produces winning payline combos, the resulting payouts will then be accounted as bonus winnings. That is regardless of whether a related Free-Spin is yet to complete a turn. A single free-spin therefore may yield multiple payouts thu several reel shuffles.