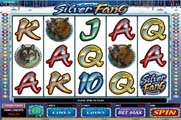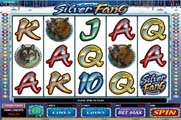 Silver Fang slot game, not to be confused with Jack London's popular novel White Fang, is a five reel video slot that has been created by Microgaming. Like its similarly named brother, this game features a wolf as one of the main graphics. While it is not a completely white animal, or a completely grey one, the piercing gaze it gives you will no doubt give you chills. The game has wonderful visuals that are of top notch quality, which is something to be excepted from a Microgaming powered video slot machine. Try it out here for free and you will not regret it.
This game also features free spins, which are always handy to have when your bankroll is thinning out, scatter symbols (also great when you're close to getting a winning spin) and of course, multipliers. The way these multipliers work are slightly different then some others. Instead of seeing the number go up after each spin, you actually have the option of gambling your winning to double or even quadruple the amount. It's similar to a hi/lo game you might see in a video poker slot. You pick either the suit or color of the card that is face down. If you're right, you double it, and have the chance to play again to double your already doubled amount (quadrupling the initial winnings). If you lose, you lose what you've already one. This gamble game might be risky, but this is what gambling is all about. So if you want to win more that just line pays, then play through this gamble game and quadruple your earnings.
Many people choose to stay away from bonus games like this, for fear of losing everything they've worked so hard to win, but if this was just about fun and winning, it wouldn't be called gambling, now would it? Even if you opt out of the bonus games, you still have a great chance of winning some of the other prizes and jackpots that are featured. You can understand more about the game, and what the slot has to give to its players by opening the payouts table of the game that shows all of the different line prizes, payouts, bonus symbols, bonus features and more. This is essential as it gives players an idea on what they can expect from the game, and the features that they can trigger to take advantage of.