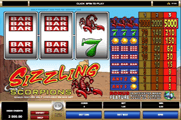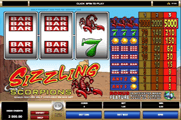 Sizzling Scorpions Free Slots Review
Sizzling Scorpions is sure to set your need to play more slot games on fire! This is a very fun slot game by Microgaming with just three reels. The graphics are bright yet easy to look at for long periods of time without giving you a headache, like some other games. This game has a desert theme to it, with the red BAR symbols being the first thing to catch your eye. So get ready for a one of a kind, and a classic 3 reeled gaming experience that is powered by none other than Microgaming.
Yes, there are scorpions throughout the game as well, thus the name, and landing three of those on the one (and only) payline will win you big bucks. There are not any great bonuses, like scatters and wilds, on this game, but if you're lucky enough you'll land a buzzard symbol and bring up the bonus game. This game has you choose which of the three scorpions you think will win a race. If you chose the winner, you get 100 coins. Second place gets you 50 coins, and third place will be 30 coins. That may not seem like a big win, but any kind of win helps out your bankroll.

The one great thing about this being a three reel slot is that there is enough room on the screen to view the pay table at all times. That way you always know what you win, or what you hope the reels will land on to get you the most money for that spin. Most five reel games can't fit that on one screen, and the constant flipping between the two can be a hassle. Overall, this is a good, fun game that's simple with one added feature, making it more enjoyable to play.
This way, you can get to see the paytable and what the game has to offer at any time during the game play, which makes it pretty easy to track winnings and see how close you are to getting a prize.
So if you are a fan of 3 reeled classic slots and you are looking for a classic experience, then this Microgaming powered slot machine is what you are looking for. You can get to enjoy this amazing slot machine Sizzling Scorpions right here for fun with demo credits, without having to place any bets or make any real money deposits.