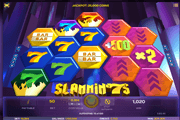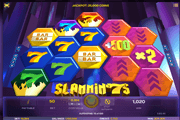 Slammin' 7s Video Slot – Winning Combos May Award 5 Respins, Add Coin Wins and Win-Multiplier!
Slammin' 7s is an iSoftbet, 27-ways-to-win video slot in which varying presentations of the number 7 and BAR icons land as 3-symbol winning combinations. This is no ordinary 5-reel slot though, because the fourth and fifth reel configurations are dedicated for Additive, Multiplier, and Respin Rewards. The special reels and symbols aim to increase the payouts of winning combinations occurring after flipping, rather than spinning actions.
The unique Slammin' 7s Reels are presented as 5 columns of 3-tile high hexagons. Only Reels 1, 2, and 3 contain the different 7 symbols and the BAR, BAR/BAR, BAR/BAR/BAR emblems. The hexagons in every column flip individually but simultaneously. After which, emerging one-of-a-kind images of any identical 7 or BAR symbols count as wins if positioned in adjacent columns.
Now the exciting part about this iSoftbet original is that the potential wins are not confined to the equivalent coin rewards of the matched-symbol groupings. Remember the 4th and 5th columns? Those columns may still reveal add Coin Wins and/or a Win-Multiplier, respectively.


There is also a chance that the 5th column will reveal a Respin sign instead of a Multiplier Factor. Such an outcome will definitely work to the advantage of lucky Slammin' 7 slot players. The game awards not just one, but 5 continuing respins. More amazing rewards can be expected if the 5th Reel reveals another Respin Icon that retriggers another set of 5 flipping actions.
Slammin' 7s Video Slot: Respins Feature
A Reel 5 Respin emblem coinciding with at least one winning combination in Reels 1, 2, and 3, triggers 5 continuing bet-free spins. All winnings gained from those respins will be doubled. Any additional coin wins, and/or multipliers correlated to all respin wins, will likewise be included in the evaluation of payouts.
Slammin' 7 Video Slot: Additive Symbols
iSoftbet calls the Reel 4 elements, Additive Symbols. The symbols represent additional coin wins of +25, +50, 100, or +500. An Additive Coin in view will be awarded only if there is at least one coinciding winning combination in Reels 1, 2, and 3.However, only Additive Symbols appearing in the second or center spot of Reel 4, qualify as additional win for a particular turn.
Slammin' 7s Video Slot: Win-Multiplier Feature
A multiplier of x2, x5, or x10 the win randomly lands as outcome of Reel 5. The Multiplier factor though, must be positioned in the second or middle row of Reel 5, and has to coincide with at least one winning combo.
Slammin' 7s Video Slot Jackpot
A rarely appearing but definitely rewarding Slammin' 7s Game Logo is the highest paying hexagon. It awards as many as 300 coins on every winning 3-symbol groupings.
The occurrence of a winning Slammin' 7s Logo combo in Reels 1, 3, and 5, and the Additive Symbol +500, as well as the x10 Multiplier, triggers the release of the Slammin' 7 Jackpot. If those elements appear during a regular flip/spin, the 25,000-coin Jackpot will be awarded.
In the event that those elements appeared after a respin, 50,000 coins will be awarded as Jackpot, since all respin wins are doubled.