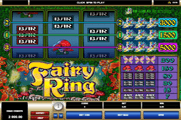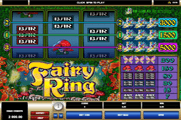 Fairy Ring is a fluttery new slot from Microgaming. This new three reel video slot is sure to bring you back to a time when you believed in fairies, especially when these creatures can also help to fatten your billfold a bit. This game is pretty simplistic when it comes down to it, but is still a great bit of fun to play and will surely make you want to stick around for quite some time.
There are only three pay lines, but when you come to think about it, that's all you really need to hit a jackpot and make money. The lower number of paylines often means the greater the winnings when you do land on something. This type of game generally won't waste your time with very small winnings that don't even add up to what you paid for the spin, which is really nice. When you hit a winning combination on a winning payline, you actually get earnings that are decent and worthwhile.

There aren't any real bonuses to this game either. It's more or less a three reel slot in its purist form. Of course, there are wild symbols, but those are becoming increasingly more standard and less of an exception. They may increase your chances of winning slightly, but not enough to make a huge difference, but nonetheless, whenever the wild icon appears on the reels, players will know that they have a better chance at triggering a payout as it would substitute for other icons on the reels of the game in order to help create a winning combo. The different payouts that the symbols can give to players can be seen at the paytable of the game, which is located on the right side of the reels to show players what they can earn by matching each symbol on any of the three lines of the game.
The likelihood of you hitting a jackpot or big win because of a wild symbol is pretty slim too; there aren't really a lot of them, so focus on hitting winning combinations rather than where the wild symbols are and you'll be fine. If you want to put the game to the test and see what it has to offer, then we bring you the chance to do so right here where you can place bets with demo credits and spin the reels of the game for fun.