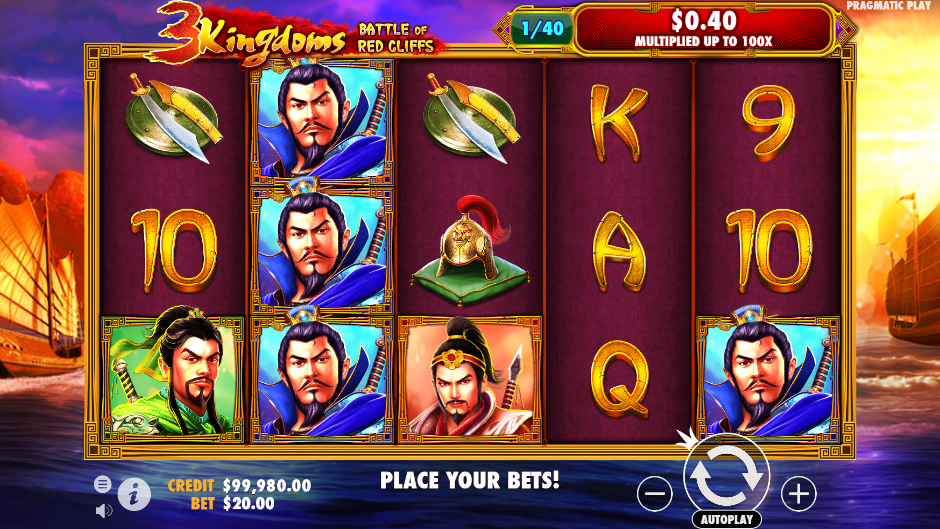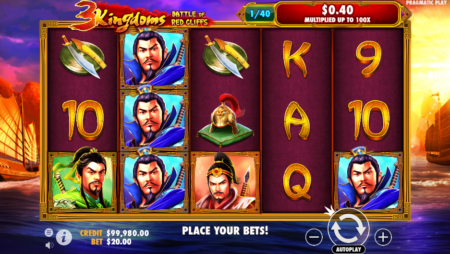 Pros
Rich historical theme based on the famous Battle of Red Cliffs.
Stunning visuals and immersive graphics.
Exciting bonus features, including the Free Spins and Warlords feature.
High volatility for thrilling and potentially lucrative gameplay.
Multiple ways to win with 243 paylines.
Cons
Cons
May not appeal to players who prefer simpler themes.
Higher volatility can result in longer periods between wins.

A Look at 3 Kingdoms Battle of Red Cliffs
Experience the epic Battle of Red Cliffs in 3 Kingdoms – Battle of Red Cliffs™, an engaging slot game that takes you back to ancient China during a time of great conflict. Join legendary warlords as you spin the reels and lead your army to victory.
Gameplay and Theme
In 3 Kingdoms Battle of Red Cliffs, you'll encounter a 5-reel layout with 243 ways to win, set against a backdrop of a dramatic battlefield. The symbols on the reels depict famous warlords from the Three Kingdoms period, including Liu Bei, Sun Quan, and Cao Cao. The game's visuals and animations are stunning, immersing you in the atmosphere of the historic battle.
Game Symbols
The game symbols in 3 Kingdoms – Battle of Red Cliffs showcase the warlords and other symbols associated with ancient China. Alongside the high-paying warlord symbols, you will also encounter symbols like ships, helmets, and flags. These symbols contribute to the theme and add depth to the gameplay experience.
Paytable and Payouts
Exploring the paytable of 3 Kingdoms – Battle of Red Cliffs reveals the values of each symbol and their potential payouts. The warlords offer the highest payouts, while the other thematic symbols and traditional card symbols provide additional opportunities to win. Keep an eye out for special symbols that trigger bonus features and free spins.
Special Features and Bonuses
One of the exciting features in 3 Kingdoms – Battle of Red Cliffs is the Free Spins feature. Landing three or more Scatter symbols triggers the feature, awarding you with up to 20 free spins. During the Free Spins round, only the warlord symbols appear on the reels, increasing the chances of landing high-value combinations.
Another notable feature is the Warlords feature, which is randomly triggered during the base game. Each warlord symbol can transform into a full-reel stacked symbol, potentially leading to significant wins.
Volatility, RTP, and Betting Range
3 Kingdoms Battle of Red Cliffs boasts high volatility, offering an exhilarating gaming experience with the potential for substantial payouts. The game has a theoretical Return to Player (RTP) percentage of 96.50%, indicating a favorable long-term payout. The betting range allows for flexibility, catering to players with different budgets.
Commentary
Immerse yourself in the historic Battle of Red Cliffs with 3 Kingdoms – Battle of Red Cliffs. The game's rich theme, stunning visuals, and immersive graphics transport you to ancient China, bringing the legendary warlords to life. With its high volatility, the game offers an exciting and potentially rewarding gameplay experience. The Free Spins feature and Warlords feature add extra layers of excitement, providing ample opportunities to secure impressive wins. If you're a fan of history or enjoy high-volatility slots, 3 Kingdoms – Battle of Red Cliffs is a slot game that shouldn't be missed.
3 Kingdoms Battle of Red Cliffs™ Gameplay Video