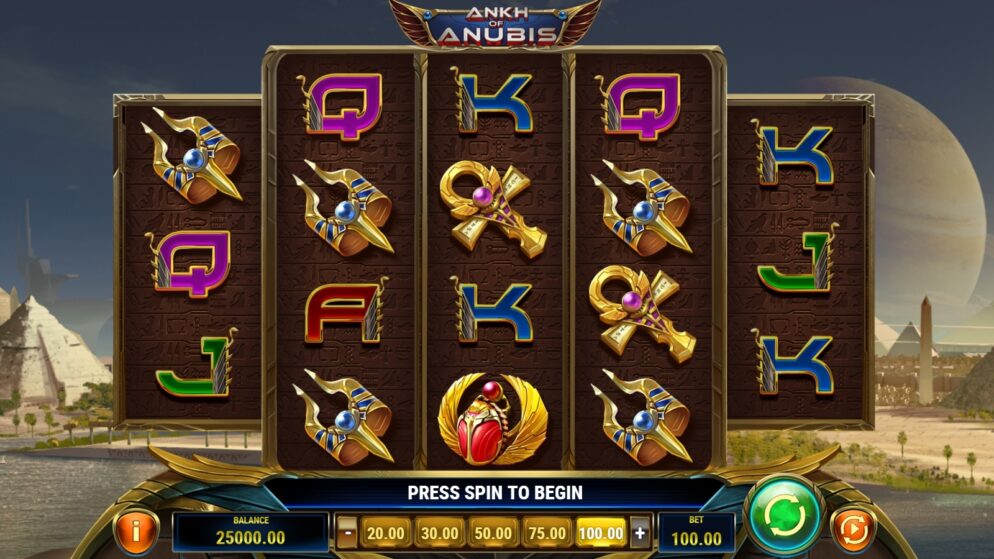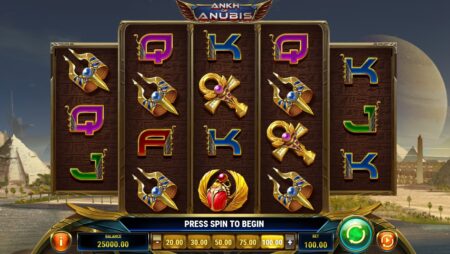 Pros
Immersive theme and impressive visuals.
Innovative gameplay features, such as the Anubis Wild Coin and Free Spins.
Potential for substantial payouts in the Free Spins round with 7,776 ways to win.
Medium to high volatility for a balanced gaming experience.
Flexible betting range suitable for players with different budgets.
Cons
May not appeal to players who prefer traditional payline structures.
Higher volatility may result in longer periods between big wins.

Ankh of Anubis: Unleash the Power of the Ancient Relic
Experience the mystical world of ancient Egypt in Ankh of Anubis, an exciting slot game developed by Play'n GO. Set in the majestic realm of pharaohs and gods, this game takes you on a thrilling journey to unlock the secrets of the Ankh, a powerful symbol of life and eternal power. With its immersive theme, innovative features, and impressive visuals, Ankh of Anubis offers an unforgettable gaming experience.
Gameplay and Theme
Ankh of Anubis features a unique grid layout with 5 reels and 3-4-4-4-3 rows, creating 576 ways to win. The game's symbols include intricately designed Egyptian artifacts, such as scarabs, ankhs, and the mighty god Anubis himself. The background depicts a mystical Egyptian temple, immersing you in the atmosphere of ancient Egypt.
The gameplay is dynamic and fast-paced, with the Ankh serving as both the Wild symbol and a multiplier. It can substitute for other symbols to form winning combinations and multiply your wins by up to 3x. The game also includes a special Anubis Wild feature, where Anubis can randomly add Wild symbols to the reels, increasing your chances of landing big wins.
Special Features and Bonuses
Ankh of Anubis offers exciting special features that enhance the gameplay and increase your winning potential. One of the key features is the Ankh of Anubis Free Spins, which is triggered by landing three or more pyramid Scatter symbols. During the Free Spins round, the game transforms into a 5×5 grid with an incredible 7,776 ways to win, providing ample opportunities for massive payouts.
Additionally, the game includes a unique feature called the Anubis Wild Coin feature. On any spin, Anubis can throw a coin onto the reels, turning multiple symbols into Wilds. This can lead to exciting combinations and substantial rewards.
Volatility, RTP, and Betting Range
Ankh of Anubis has a medium to high volatility, offering a balanced gameplay experience with the potential for both frequent wins and larger payouts. The game has a theoretical Return to Player (RTP) of 96.20%, indicating the expected average return to players over the long term.
The betting range in Ankh of Anubis caters to various players, with a minimum bet of $0.10 and a maximum bet of $100 per spin. This flexibility allows players of different budgets to enjoy the game and adjust their bets according to their preferences.
Commentary
Ankh of Anubis is a visually stunning slot game that immerses you in the world of ancient Egypt. The innovative grid layout, combined with the Anubis Wild Coin feature and the Free Spins round with 7,776 ways to win, creates a dynamic and exciting gameplay experience. The medium to high volatility adds an element of thrill and anticipation, making each spin full of potential. While the game may not have a traditional payline structure, its unique features and immersive theme make it a standout choice for players seeking a thrilling adventure in ancient Egypt.