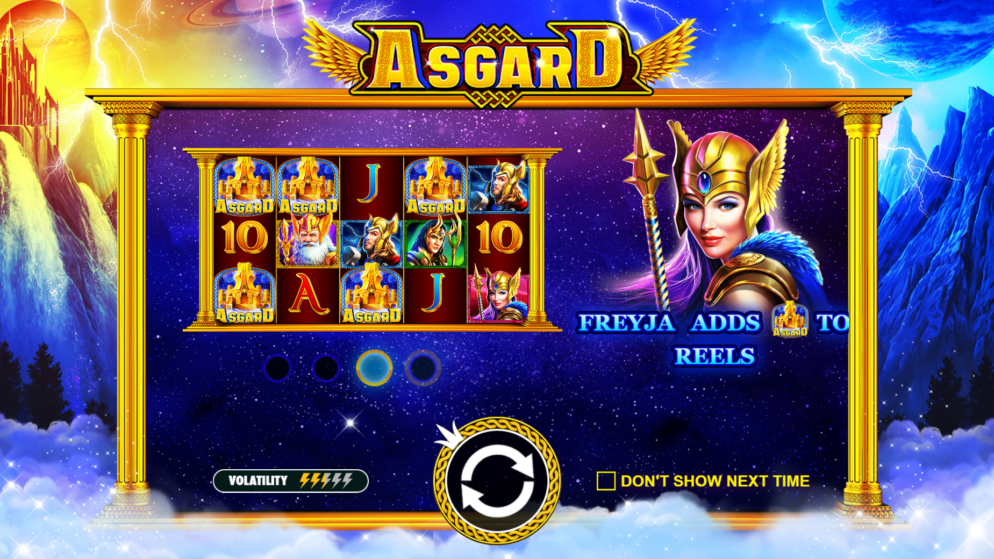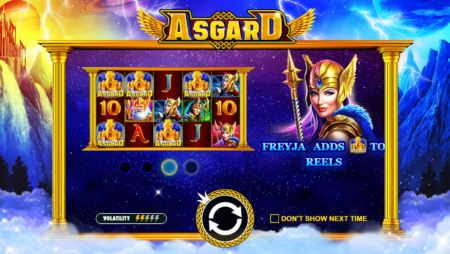 Pros
Immersive Norse mythology theme
Stunning graphics and animations
Exciting special features and bonuses
Potential for big wins with expanding Wilds
Flexible betting range to suit different players
Cons
May be overwhelming for players unfamiliar with Norse mythology
Medium volatility may not appeal to those seeking extremely high or low volatility games

A Look at Asgard by Pragmatic Play Slots
Asgard is an epic slot game that takes players on a mythical journey to the realm of the gods. Developed by Pragmatic Play, this game features 5 reels and offers 25 paylines, immersing players in a world of Norse mythology and legendary beings.
Gameplay and Theme
The theme of Asgard revolves around the powerful gods of Norse mythology, such as Odin, Thor, Loki, and Freya. The game's graphics and animations are visually stunning, bringing the mythical realm to life. The atmospheric soundtrack further enhances the immersive experience, creating a sense of grandeur and adventure.
As for the gameplay, players can expect a range of exciting features and symbols related to Norse mythology. The reels are adorned with iconic Norse artifacts, such as Thor's hammer, Odin's spear, and Loki's mask. The game also incorporates traditional card symbols with a Norse-inspired design.
Special Features and Bonuses
Asgard offers a variety of special features that add depth and excitement to the gameplay. One of the standout features is the Wild symbol, represented by the golden emblem. It substitutes for other symbols to help create winning combinations and can expand to cover entire reels, increasing the chances of big wins.
Additionally, the game includes a Free Spins feature that is triggered by landing three or more Scatter symbols, depicted as the magical tree Yggdrasil. During the Free Spins round, players can choose from four game modes which can all be found in the free slots version, each representing a different Norse god and offering unique bonuses and rewards.
Volatility, RTP, and Betting Range
Asgard has medium volatility, providing a balanced gameplay experience with a mix of frequent small wins and the potential for larger payouts. The game has a theoretical Return to Player (RTP) of 96.48%, which represents the long-term expected return from the game to the player.
The betting range in Asgard caters to various players, with a minimum bet of $0.25 and a maximum bet of $125 per spin. This range allows for flexibility in wagering and accommodates different playing styles and bankrolls.
Asgard is a visually stunning and engaging slot game that transports players to the mythical world of Norse gods. With its immersive theme, exciting features, and the potential for rewarding wins, this game offers an epic gaming experience for fans of Norse mythology and slot enthusiasts alike.
Commentary
Asgard offers an immersive and visually captivating gaming experience with its Norse mythology theme and stunning graphics. The game successfully brings the mythical world to life, making players feel like they are part of an epic adventure. The expanding Wilds and Free Spins feature add excitement and the potential for significant wins.
While the game's theme and features are impressive, it's worth noting that players who are unfamiliar with Norse mythology may find it challenging to appreciate the game's intricacies fully. Additionally, the medium volatility may not suit those seeking extreme highs or lows in terms of win frequency. However, for players who enjoy a balanced and visually stunning slot game, Asgard is an excellent choice.
Video of Gameplay