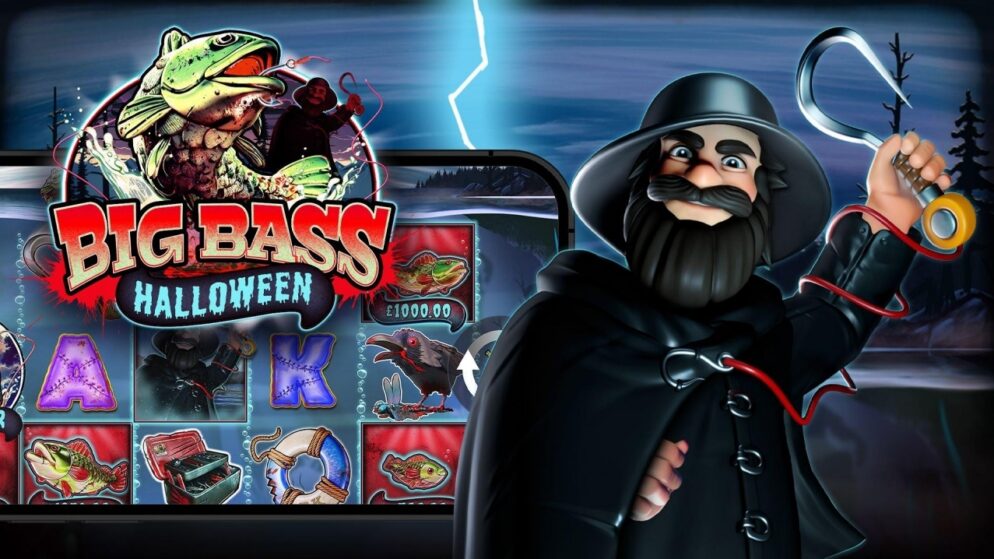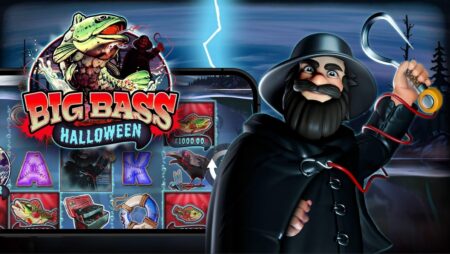 Pros
Unique Halloween theme adds a fresh twist
Multiple bonus features for increased win potential
Medium volatility caters to a broad range of players
Cons
The base game hit frequency is relatively low
High maximum bet may not be suitable for low-rollers

Big Bass Halloween™: Where Fishing Meets Horror
An Overview
Big Bass Halloween™ seeks to combine two different worlds: fishing and Halloween. At first glance, one might wonder how these two disparate themes could coalesce into a coherent gaming experience. The game accomplishes this blend surprisingly well, introducing a haunting atmosphere replete with crows, hooks, and blood-soaked scatters, alongside the more traditional fishing elements that many slot enthusiasts have come to enjoy.
Release Date: 17th October 2023
Minimum Bet: 0.1
Maximum Bet: 250 (375 with Ante)
Rows: 3
Reels: 5
Paylines: 10
Bet Multiplier: 10
Max Multiplier Win: 2100
RTP: 96.04%
Volatility: Medium
Extra Features: Replay and Free Bonus
Hit Frequencies: Varied, with 1 in 7 in base game and 1 in 113 in free spins
Gameplay Mechanics
Free Spins Bonus Round
This feature is among the most anticipated in the game, and rightly so. Three or more Scatters on a single spin kick off a Free Spins bonus round. The game awards up to 20 free games during which the fisherman, serving as a Wild, becomes an even more vital part of the gameplay. He starts collecting fish, each of which carries a monetary value. It's this merging of 'reeling in the catch' with the mechanics of a slot game that offers an interesting juxtaposition of themes.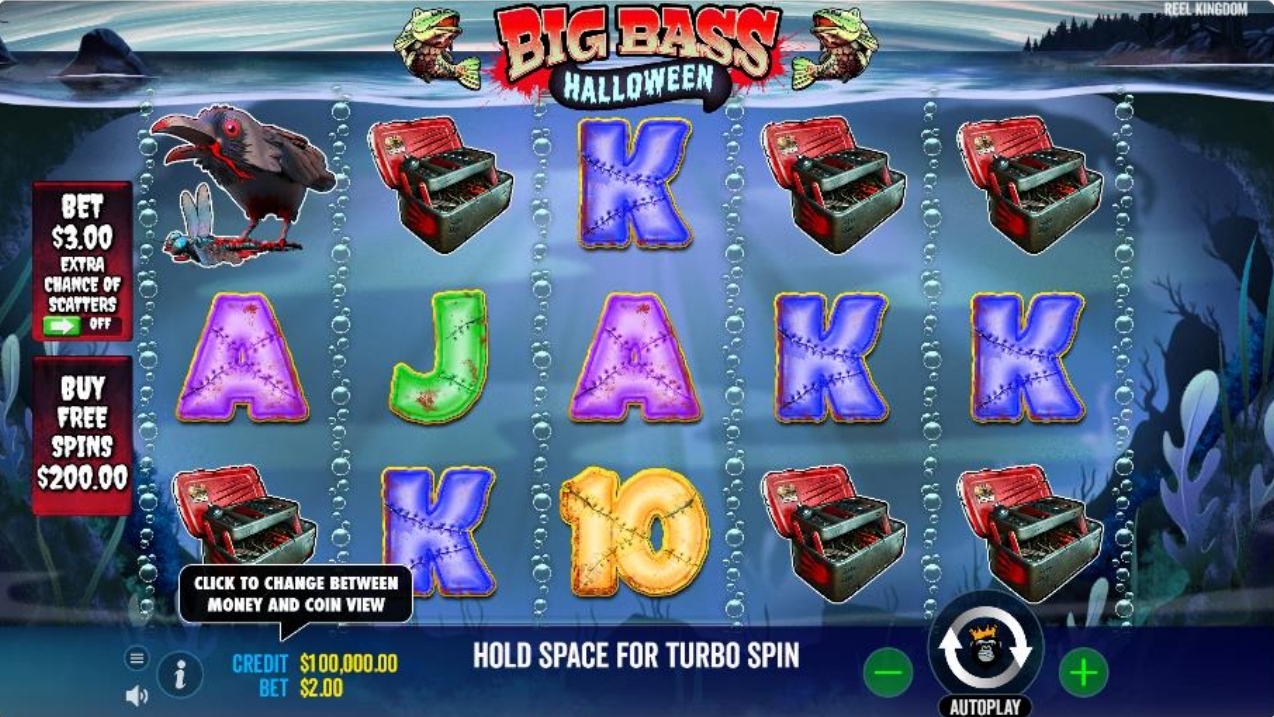 Fish Money Values and Multipliers
Each fish symbol carries a monetary award ranging between 2x and 2,000x the player's bet. The ability of these values to receive multipliers in subsequent bonus rounds provides an added layer of excitement. The thrill of catching a high-value fish and then multiplying its worth gives players a tangible goal to strive for, beyond just spinning the reels.
Dynamite Feature
A unique addition, the Dynamite Feature serves as a wildcard. It comes into play when the fisherman is the lone symbol on the reel, igniting a stick of dynamite that transforms other symbols into fish. This not only aligns with the game's theme but also offers an interesting strategy element.
Big Bass Halloween™ is an electrifying slot game that masterfully fuses two seemingly disparate themes: fishing and Halloween. The result is a gameplay experience filled with eerie backdrops, spooky symbols, and the excitement of reeling in potential big wins. Developed with a 3×5 reel layout and 10 paylines, the game brings together crows, hooks, and Halloween-themed scatters in a visually striking environment that does justice to both its themes.
One of the standout features of Big Bass Halloween™ is the Free Spins Bonus Round. This is activated when three or more scatters appear on the reels, awarding up to 20 free games to the player. Within this bonus round, the fisherman symbol plays a significant role. Every time he appears on the reels, he collects the values of any fish in view, enhancing your total win. What's more, for every fourth fisherman symbol collected, the player gains an extra ten free games, further prolonging the excitement.
Interestingly, the fish symbols come with cash values that range from 2x to 2,000x the player's bet. This adds a layer of unpredictability and excitement as you never know how much the fisherman will reel in. Moreover, these cash values are subject to multipliers during retriggers, intensifying the bonus round's thrill. The multipliers increase incrementally with each retrigger, starting at x2 for the first, moving to x3 for the second, and culminating at an impressive x10 for the third.
However, the game isn't just about free spins and multipliers. The Dynamite Feature is another notable addition. In this feature, a single fisherman in view without any fish throws a stick of dynamite, transforming some symbols into fish that contribute to your winnings.
With an RTP of 96.04%, a medium level of volatility, and a diverse range of betting options from a minimum of 0.1 to a maximum of 250, Big Bass Halloween™ caters to a wide spectrum of players, from cautious beginners to high-rolling veterans.
In conclusion, Big Bass Halloween™ is a memorable slot game with its unique blend of themes, compelling features, and potential for big wins. It successfully merges the worlds of fishing and Halloween, each enriching the other to create a balanced, engaging gaming experience. Whether you're in it for the thematic elements, the intricate features, or simply the joy of spinning the reels, this game offers something for everyone.
Conclusion
Big Bass Halloween™ offers more than just a slot experience; it provides a narrative that merges the tension of Halloween with the patience and reward of fishing. The game is well-suited for players who like their gaming experience to be about more than just spinning reels. The combination of free spins, multipliers, and the special Dynamite feature make this a game worth trying, despite its minor drawbacks.