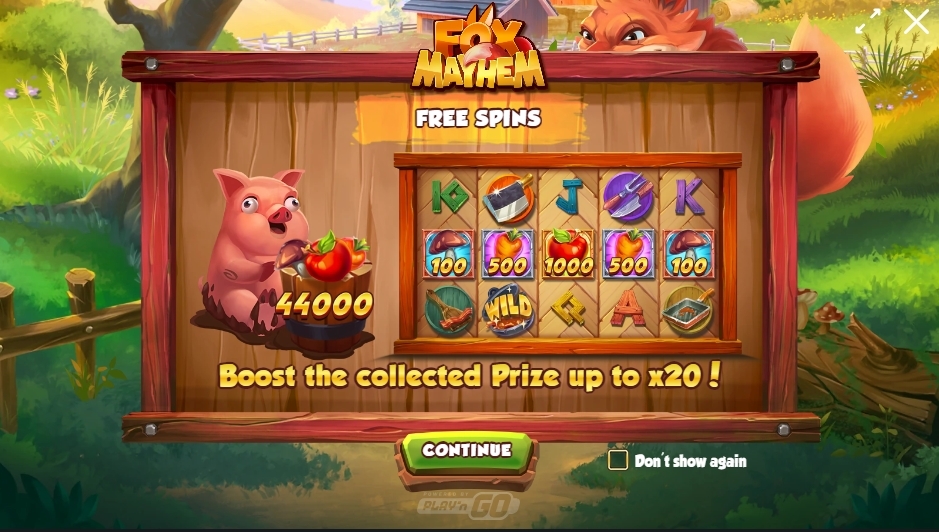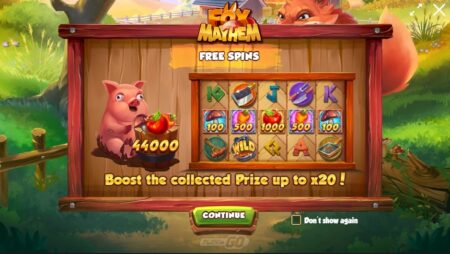 Pros
Engaging storyline
Free Spins feature with attractive multipliers
Prize Collection feature offers strategic gameplay
Cons
Lack of transparency about RTP and volatility
Not suitable for those looking for a traditional slot experience

What's Going On in Fox Mayhem?
Picture this: Freddie Fox, as sly and cunning as they come, has his eyes set on a prize. That prize is the farmer's pig, plump and ready for the upcoming county fair. As the farmer is busy prepping his hog, Freddie's got plans of his own. The aim here is simple. Help Freddie, and a share of the feast could be yours.
Game Specifications
Specifications
Release Date: July 6, 2023
Game Type: Video Slot
Provider: Play'n GO
Layout: 5×3 Reels
Paylines: 20
RTP: Yet to be announced
Volatility: To be confirmed
Min Bet: To be determined
Max Bet: Unknown
Languages: Multiple languages supported
Gameplay That Keeps You Engaged
From the first spin, you realize that Fox Mayhem is no ordinary slot game. With 20 paylines spread across 5×3 reels, the base game offers a steady stream of winnings. However, what sets this game apart are its standout features.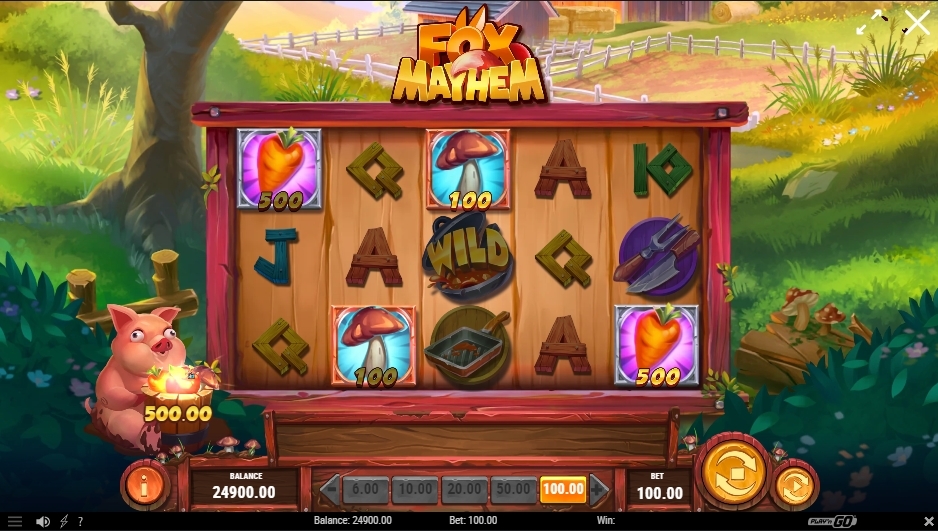 Free Spins With Multipliers
The Free Spins feature in Fox Mayhem is an adrenaline rush. Landing 3, 4, or 5 Scatter Symbols rewards you with 10, 12, or 15 Free Spins. But there's more. At the start of the Free Spins round, a random multiplier (x2, x5, x10, or x20) is chosen. This multiplier is applied to your win, making this feature a potential gold mine.
Prize Collection Feature
The Prize Collection is another exceptional aspect of the game. Landing 3 or more food symbols triggers this lock-and-spin-style feature. During this round, you have three lives. Each time no new symbols land, you lose a life. When a symbol lands, its value is added to the Prize Collection pot, and your lives are restored. This keeps you on the edge of your seat as you balance risk and reward.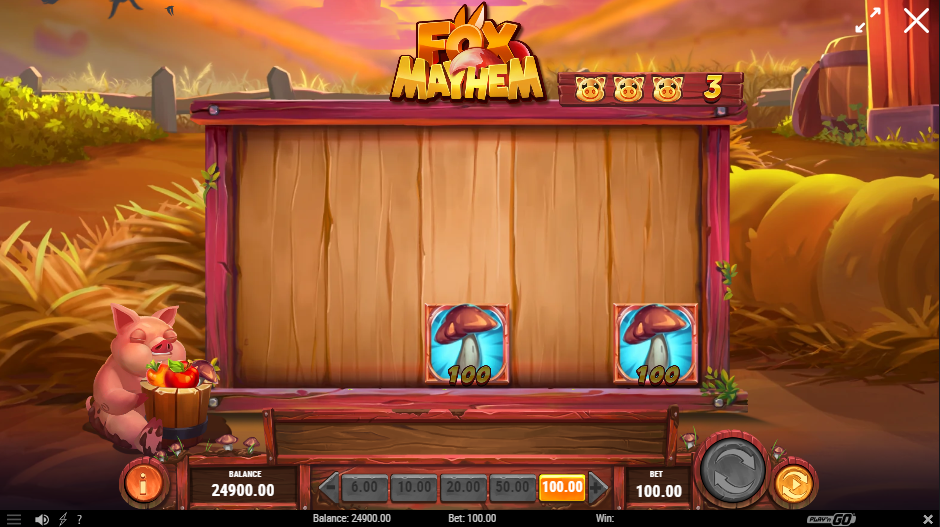 Commentary on the Gameplay
Having spent countless hours on various slot games, I can honestly say that Fox Mayhem brings something different to the table. The blend of features offers a versatile playing experience, appealing to both novices and experts like myself. The Free Spins round is electrifying; knowing a multiplier will be applied adds an extra layer of excitement. The Prize Collection feature also serves as an exhilarating break from the base game, providing a lock-and-spin style gameplay that is both strategic and rewarding.
The developers, Play'n GO, have done a great job with the graphics and storyline, too. They immerse you into Freddie's world, making you more than just a player—you're part of the adventure. To be honest, the overall design and special features make Fox Mayhem an absolute must-try for anyone who loves slots.
Meet Freddie: Your Partner in Crime
Freddie Fox is not your average fox. He's clever, swift, and he's got a plan. His mission is simple: get that pig. Help him out, and he might just let you in on the feast.
Final Thoughts
Fox Mayhem is a unique experience that goes beyond mere slot spinning. The game's narrative, paired with its stimulating features, offers an adventure that keeps players coming back for more. If you're looking to try something out-of-the-ordinary, yet rewarding, Fox Mayhem could just be your next go-to slot game. Are you ready to join Freddie Fox on this thrilling quest?