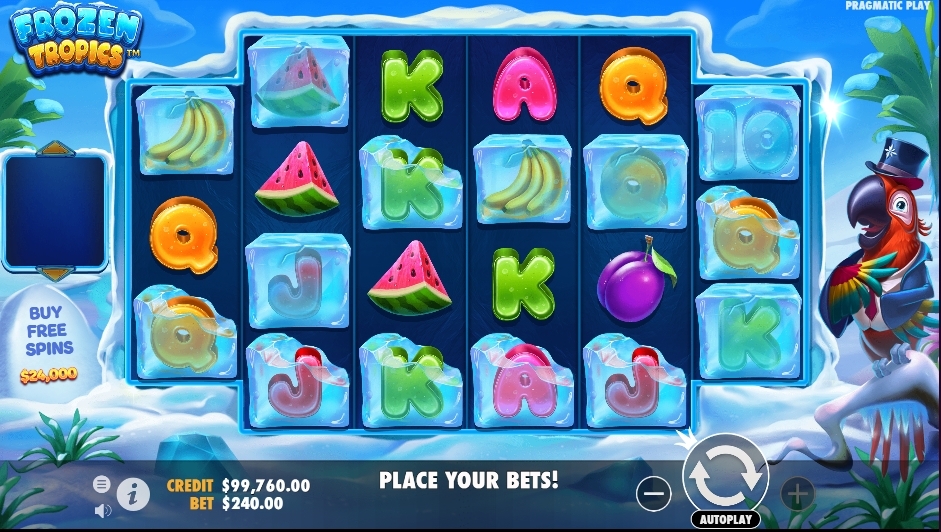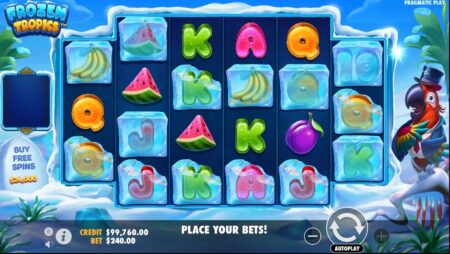 Pros
Unique reel formation adds to gameplay dynamics.
Highly interactive tumbling feature.
Multipliers up to 100x via wild symbols.
Option to buy free spins.
High RTP at 96.15%.
Cons
High volatility might not suit all players.
Theme could be confusing for some players.

Frozen Tropics Slot Review: A Wintry Wonderland of Riches Awaits
It's not often you stumble upon a slot that melds the icy Arctic with a tropical paradise. In Frozen Tropics™, this is precisely what you get—an intriguing amalgam that leaves you both refreshed and fired up for more. The six reels showcase various fruits and card ranks, all creatively presented in icy cubes. However, these aren't just for show; they hold the key to unlocking your multipliers.
From my years of experience in the world of slots, I can tell you Frozen Tropics™ is a whole different animal. The first thing that strikes you is its unconventional reel structure of 3-4-4-4-4-3. It's a setup that offers you more than the standard 5-reel structure. And that's where the tumbling feature comes in. Symbols cascade from above and keep the reels dynamic, ensuring you're always on the edge of your seat.
The tumbling feature isn't new, but Frozen Tropics™ takes it up a notch. When you score a win, the icy cubes around the winning symbols shatter. These symbols vanish, leaving behind a multiplier that enhances your next win. Non-wild symbols will bestow a 1x multiplier, but if you get wild symbols involved, you can scale up to an impressive 100x multiplier. This is no small feat, making each tumble win an anticipation-filled event.
Free spins are another element that adds zing to the gameplay. Land at least three Scatter symbols, and you trigger 10 free spins while also landing a payout of up to 100x your bet. This is an excellent way to get the adrenaline pumping. And for those who are less patient, the game offers the option to buy these spins at 100x your bet, bypassing the need to naturally trigger the feature.
In terms of statistics, the slot has an RTP of 96.15%. That's quite competitive, ensuring a fair level of return over time. It's important to mention that the gameplay falls under high volatility. This implies that wins may come less often, but when they do, they are often substantial.
What sets Frozen Tropics™ apart from many other slots is its ability to maintain player engagement with its multi-layered features. Each element feeds into the next, ensuring that the gameplay never becomes monotonous. In essence, it's like experiencing a tropical vacation with the occasional rush of winter adrenaline. As a slot enthusiast, I find this mix incredibly enticing.
Meet The Symbols
In Frozen Tropics™, every symbol serves a purpose. From fruits like watermelons and pineapples to classic card ranks, each icon is designed to resonate with the theme. The icy cubes not only provide a visual treat but also hold the keys to your winning multipliers.
Specifications
Release Date: [released]
Game Type: Video Slot
RTP & Volatility: 96.15%, High
Final Thoughts
Frozen Tropics™ is a standout game in a saturated market. Its unique theme, interactive features, and high RTP make it an excellent choice for both new and experienced players. Happy spinning!